POPS THEATER


"ROLL 'EM, LESTER"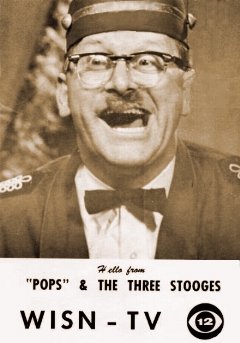 "COMING TO WISN-TV…
Have Fun! See the Stooges
THE THREE Stooges, screwball stars of innumerable slapstick comedies produced in Hollywood, will make their debut on WISN-TV, channel 12, at 5 p.m. Monday.
Their half hour shows will be seen at 5 p.m. on Mondays and Fridays. The Stooges will be seen for an hour on Saturdays and Sundays, starting at noon.
Larry, Moe and Curly will entertain Milwaukee audiences with their head-cracking, pie-tossing, side-splitting type of horseplay.
To make their brand of humor more effective, more than 3,000 sound effects were used in the production of these comedies – ranging from the "pow" of Moe's fist glancing off Larry's jaw to the scrape of a lawn mower running over Curly's nearly bald pate.
Hosting the series will be "Pops," better known to Milwaukee viewers as Tommy Richards. A wide variety of sets, simulating parts of a motion picture theater will be utilized.
Launching the series Monday will be an episode titled "Goofs and Saddles". Cattle rustlers are plaguing the territory and it becomes the Stooges duty to head them off at the pass. The lampoon on westerns has the trio cast as Gen. Muster, Buffalo Billious(sic) and Wild Bill Hickup."

From The Milwaukee Sentinel's "Telescope Magazine", Sunday, 30 August 1959. Courtesy of Dick Nitelinger

WISN-TV (Channel 12) in Milwaukee televised THE THREE STOOGES, a half-hour show hosted by Pops, beginning at 5:00 PM on Monday, August 31, 1959 and running on Mondays and Fridays. The show, sponsored by Johnston Cookies (makers of the Pop's Cookies), also aired on Saturdays and Sundays from noon until 1 PM. Pops was portrayed by Tommy Richards, a local nightclub comic. The show replaced UNCLE HUGO AND POPEYE after the Popeye cartoons moved to rival WITI-TV6 and a show called CAPTAIN WITI.
WISN-TV's THREE STOOGES show continued running on Mondays and Fridays until September 2, 1960. The following Monday, September 5, 1960, the show expanded to Monday through Friday in the same time slot (the weekend shows remained unchanged). The THREE STOOGES show was expanded again, this time to an hour, and was renamed POP'S THEATER on Monday, April 3, 1961. This was two days after WISN-TV had switched network affiliations (from ABC to CBS) with Milwaukee's WITI-TV6 on April 1, 1961.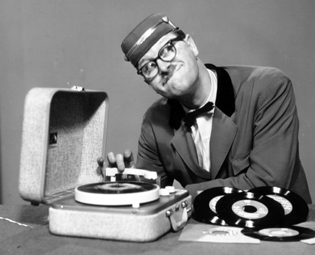 Tommy Richards promoting a "Pops" 45 rpm record The Three Stooges visit Pop's Theater
Above photos credit: WISN-TV photos courtesy of Thom Schlais via Dick Nitelinger
Richards appeared as an old theater usher named "Pops", who worked at the fictional Bee-Jou (Bijou) Theater. With a studio audience full of cub scouts and brownies, Pops told tasteless jokes, talked about his wife Effie, and introduced the showing of old Three Stooges shorts by shouting "Roll 'Em, Lester" as the movie was about to begin.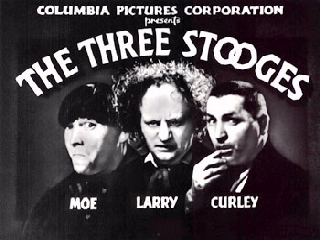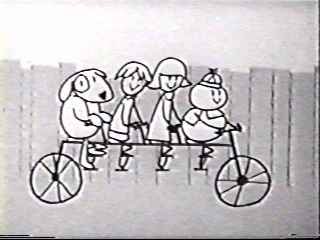 The Three Stooges The Mischief Makers
In addition to the Stooges, Pops showed the AAP package of pre-1948 Warner Brothers cartoons and the "Gumby and Pokey" claymation features. There were also several silent-movie excerpt series, bearing titles like "Funny Manns" (with comedian Cliff Norton who passed away on January 25, 2003 at the age of 84), "The Mischief Makers" and "Comedy Capers". He also promoted the yearly MDA Carnivals for the Muscular Dystrophy Association. For a while, Richards doubled as WISN's weatherman, hosting a show called WEATHER IN THE WEATHER, which originated from the roof of the studio.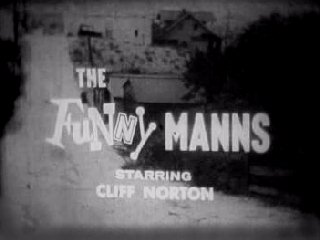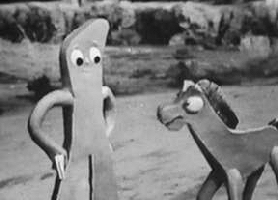 Funny Manns Gumby and Pokey
On August 28, 1961, the time slot of the weekday show was shifted to 4:30-5:30 PM. On August 27, 1962, it was shifted back to the 4:00-5:00 PM slot. The show was renamed Pops Theater and Punky on October 8, 1962. It underwent another name change, to Pops Theater and Rocky, on December 30, 1963, with the addition of the syndicated "Rocky and Bullwinkle" cartoons.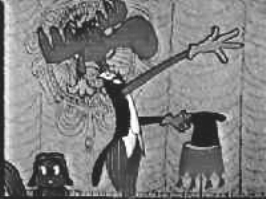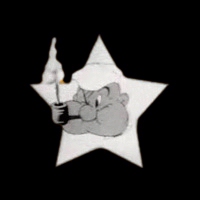 Rocky and Bullwinkle Popeye
On August 23, 1965, the show was cut to 30 minutes, running from 4:30-5:00 PM. On January 3, 1966, the time slot was shifted to 5:00-5:30 PM. The show was renamed again on January 24, 1966, to Pops Theater and Popeye, featuring the made-for-TV "Popeye" cartoons. The last Pops show aired on April 22, 1966. On the following Monday, April 25, 1966, Lippy Lucy replaced Pops in the same time slot. Lippy Lucy, featuring the Bob Trent puppets, ran through Friday, December 8, 1967.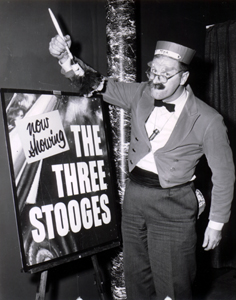 Tommy Richards as Pops
Above photo credit: WISN-TV photos courtesy of Thom Schlais via Dick Nitelinger
Tommy Richards had a cameo role in a 1964 GUNSMOKE episode, as did several other local personalities from the nation's major CBS affiliates. Dick "Nitelinger" Golembiewski relayed the following information from Hal Erickson: "The GUNSMOKE episode featuring Tommy Richards as gambler (he had lines!) was "The Hammerhead", originally telecast Dec. 26 1964." Dick also sent the following information regarding Tommy Richards after his move to Arizona: "According to IDMB, Richards also played a mailman on a 1972 episode of THE NEW DICK VAN DYKE SHOW, which was filmed in Arizona per Van Dyke's contract."
In 1977, WISN-TV switched it's affiliation back to ABC which remains it's network affiliation to this day.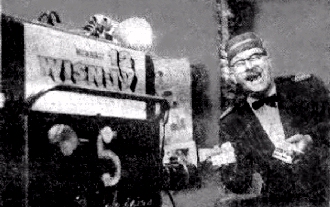 Tommy Richards as Pops
Before doing Pops' Theater, Tommy Richards was a successful comedian in Milwaukee, as can be seen in the ad below from June of 1952.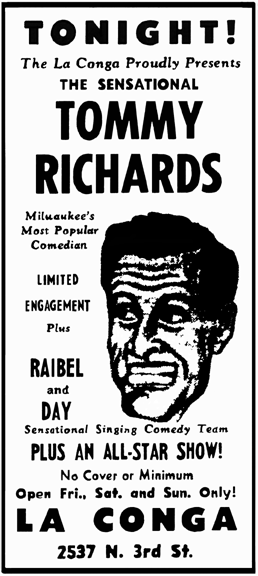 (Courtesy of Dick (Nitelinger) Golembiewski)
Tommy, along with his wife Esther, spent his retirement in Arizona. Sadly, they lost their son, Jonathan, at the age of 49 on May 11, 2004. Mrs. Joha wrote: "Jon's death seemed to create the sudden downhill slide of Tom. Tom never really showed his grief outwardly...he always tried to be the cheerful one."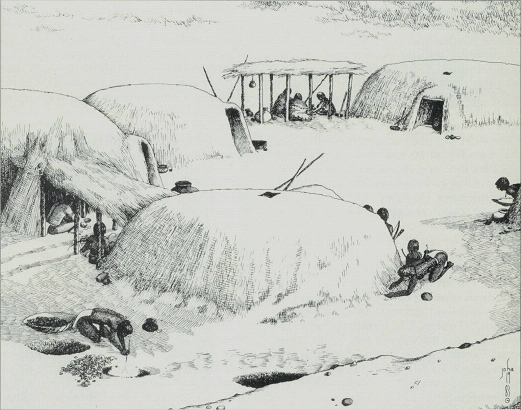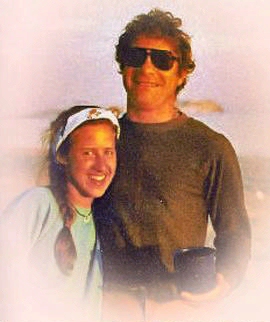 Above left is a drawing of a Hohokam house, done in 1983 by Jon Joha
Tommy " Richards" Joha passed away at the age of 86 of Alzheimer's on the last day of December, 2006. Shortly before his passing, author Steve Cox interviewed Mr. Richards for a book that he co-authored about Larry Fine and the Three Stooges. Entitled "One Fine Stooge: A Frizzy Life in Pictures", from Cumberland House Publishing, it can be ordered online from Amazon.com.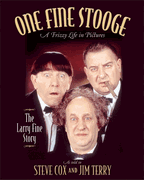 Hear both sides of the
POP'S STORYBOOK RECORD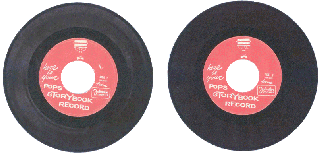 Pop's Storybook Record, Side One
Courtesy of Jim Feeley,
with digital re-mastering by Kevin Bartzen.
Provided by Dick "Nitelinger" Golembiewski

Pop's Storybook Record, Side Two
Courtesy of Jim Feeley,
with digital re-mastering by Kevin Bartzen.
Provided by Dick "Nitelinger" Golembiewski

Watch the opening and closing from The Mischief Makers that I posted on YouTube.
The animation is done by Gene (Tom Terrific) Deitch
MEMORIES OF POPS:

Dick "Nitelinger" Golembiewski, a Milwaukee TV historian who has a web site devoted to Milwaukee's TV Horror Hosts, sent me the following email regarding Tommy Richards and Pop's Theater:

"...One thing about "Pops", while I recall his being sponsored by Grebes, I also recall that he was sponsored by the Johnston Cookie Co. My brother and I had a 45 record that Johnston and Richards put out one year. Unfortunately, we pitched it in the early 70's. (Johnston no longer makes cookies, but they do make ingredients. I had an uncle who worked there for awhile. I recall that one could go and buy a shopping bag full of broken cookies for a buck – as opposed to the 8 in a pack for 29 cents, or whatever the price was at the time. Local folk singer/songwriter Larry Penn based his most famous song "I'm a Little Cookie" on the fact that those broken cookies tasted just as good!)

A friend who worked at WISN briefly during the early sixties told me this story:

Richards did the show LIVE. Once a week he had "joke time", and would go into the audience. He asked one little girl, who told him that she "got this one from her mom and dad yesterday". Now Tommy Richards was a comedian, and knew every dirty joke in the world. So the little girl says, "What's better than being deep in the heart of Texas?" Richards immediately understands what's about to transpire and says, "Get ready Lester!"

The little girl says, "Having six inches in Virginia." Richards yells, "Roll 'em Lester!!!!"

Dick has a picture on his web site of himself and his younger brother, along with Pops, from 1965. You can see it by clicking HERE.
Dick also contributed most of the data regarding the dates, time slots and name changes of the Pops shows, and supplied three of the photos that are courtesy of Thom Schlais of WISN-TV.


Gary Heidenreich wrote:

"I'm 51 and I grew up in Milwaukee. Recently, I came across your "Pops" web site. It brought back fond memories - I haven't thought about that show in decades.
I enjoy working in Photoshop, and so I had some fun with one of your photos of Pops..."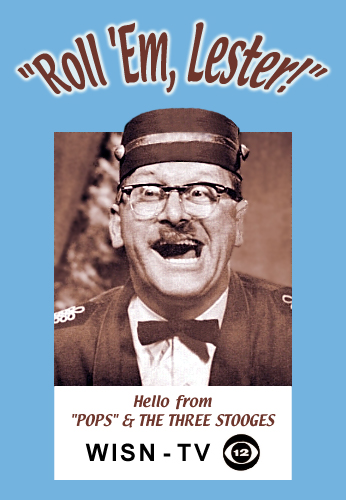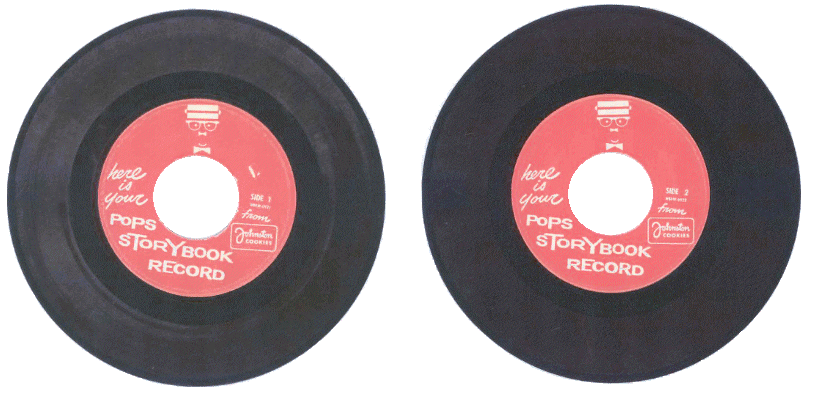 Bill Schimp of Milwaukee, Wisconsin, sent the picture of the Pops Record seen above. He also sent the following "Pops" memories:

"...It really was a nice surprise to find your website.

Is there anyone you know of that may have recorded the (Pops) record? I would love to be able to listen to it again. As I recall, one side had the Johnston Cookies theme song and the other side had Pops telling a story but I can't recall which one. We were more interested in marching around the room to the theme song so that side got played the most.

Every now and then I'll shout out a "Roll 'Em Lester" and most people don't even remember what that was about.

And we, as Dick "Nitelinger" Golembiewski, frequently went to the Johnston Cookies Co. plant and bought bags of broken cookies. Ah, the good ol'days..."


Barry C. Noonan of Madison, Wisconsin wrote:

"What a pleasure it was finding a reference to "Pops" on the web! I was born in Milwaukee in 1956 and suspect I saw just about the whole run of the series.

Pops' studio opened to an alley, and across the alley was a store of some kind where Lippy Lucy and Nasal Noteworthy worked or played or whatever. (Of course, it was all really indoors!) When Pops was planning to retire they gradually did fewer and fewer shows in Pops' studio and more and more in the store across the alley. When Pops left for good we viewers were already familiar with the new set.

I must admit I can still remember the Johnston Cookie jingle: "Johnston's the greatest cookie/You will ever get!"

I'd love to be able to let Tommy Richards know how much pleasure he brought to my childhood. Thanks for the great site!"

Mark Secosh of San Francisco, California wrote:

"Thanks for the memories.  I've continued the tradition out here in San Francisco.  I'm sure my wife and son don't know why, but I always call out "Roll'em Lester" at the beginning of a video or film."
REMEMBERING UNCLE HUGO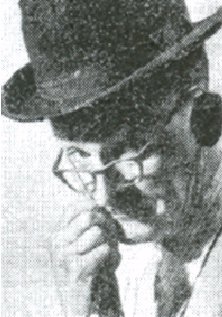 Uncle Hugo, portrayed by Hugh Rowlands, resided in the "third sub-basement" of WISN-TV's studios. He was the lowliest and loneliest janitor at the station, being verbally abused by Oswald, his boss, and eating Mrs. Howe's Potato Chips, the sponsor of his weekday afternoon show. It ran on WISN-TV from 1954 through 1959.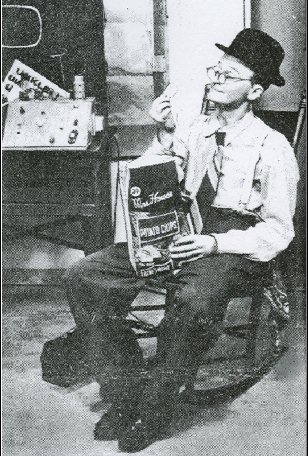 Uncle Hugo, with his fake German accent, presented the Max Fleischer Popeye cartoons, along with old Warner Brothers cartoons from AAP. These cartoons later moved to WITI-TV6.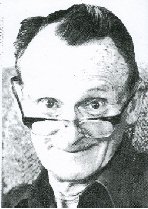 Hugh Rowlands, a native of Racine, Wisconsin, had been an actor, appearing on NBC daytime radio dramas from 1936-1942. He worked at a radio station, WOBT, in Rhinelander from 1948 until 1950, Rowlands started in local television at Milwaukee's old WOKY-TV, Ch. 19.


(From TV Guide, 21 March 1954.
Courtesy of Dick (Nitelinger) Golembiewski)
"After School with Hugo" made its debut on WOKY-TV at 4:00 p.m. on Monday, February 8, 1954. It ran through Friday, May 7, 1954. Rowlands played Uncle Hugo on the hour-long show, running from 3:30-4:30 PM during its last week. The show featured the Uncle Hugo and Oswald characters that Rowlands later took with him to Milwaukee's Channel 12.

Rowlands began hosting "Looney Tunes" on WTVW (ch. 12) in Milwaukee on Monday, June 20, 1955. It ran from 4:30-5:30 PM during its first week. It later ran from either 4:15-5:15 PM or 4:00-5:00 PM depending on programming (WTVW became WISN-TV in July of 1954). The Rowlands hosted "Looney Tunes" ran on Channel 12 through Friday, June 28, 1957. The title was changed to 'Uncle Hugo and Popeye" on Monday, July 1, 1957, and ran until replaced by "The Three Stooges and Pops".
In addition to his radio and television work, Rowlands was also a college instructor, working as the first television production teacher at Marquette University. He held this position from 1952-1961. After he left Marquette he worked for Milwaukee County as a civil defense training officer, and later worked for the city of Milwaukee. Heart disease forced his retirement in 1973, and it claimed his life, at the age of 64, in January of 1978.
Some corrections and additional information provided by Dick "Nitelinger" Golembiewski
This Web Site Created And Maintained By
Ron Kurer
Go to the Albert the Alley Cat page
Updated November 11, 2008