LAUREL AND HARDY CARTOONS
Larry Harmon, the man who made Bozo the Clown a household name, had acquired the rights to the likenesses of the famous comedy duo from Stan and Eda Laurel, and Oliver Hardy's widow, Lucille, in 1961. Harmon's company, which had previously produced the Bozo animated cartoons and many of the made-for-TV Popeye cartoons under contract from King Features, began animating The Laurel and Hardy Comedy Show around the same time that producer David L. Wolper contracted with Hanna-Barbera to produce another series, following Laurel's death. A legal challenge followed, with Wolper and Harmon agreeing on a 'modus vivendi (a state of affairs where two opposing parties agree to differ), where Harmon gave permission to use the characters in exchange for distribution rights. Harmon himself supplied the voice of Stan Laurel (1895-1965), with Jim Mac George voicing the rotund Oliver Hardy (1892-1957). Larry Harmon passed away of congestive heart failure on July 3, 2008. He was 83 years old.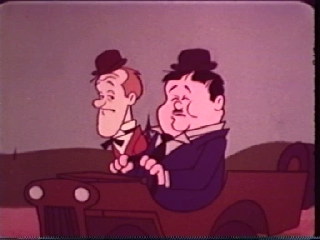 The cartoons followed the same basic theme as the Laurel and Hardy shorts produced by Hal Roach beginning in 1926. Laurel, the whining, dim-witted half of the team, was constantly getting himself and Hardy, the temperamental, domineering half, into "another fine mess". Premiering in 1966, the 156 cartoons were distributed by Allworld Telefilm Sales, and usually seen during locally hosted children's shows.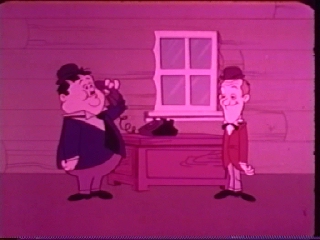 The characters had appeared in animated form before, including the 1935 Disney cartoon, Mickey's Polo Team and again later, in 1972 when they guest-starred in two hour-long episodes of Hanna-Barbera's New Scooby Doo Movies.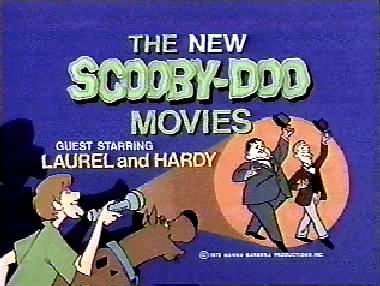 HIT Entertainment acquired the distribution rights to Larry Harmon's Laurel and Hardy and Bozo The Clown cartoons in the fall of 1998, and has apparently repackaged them for syndication. The unfortunate part is that they have new music, openings and bridges. HIT has 62 combined half-hour episodes available.
See a full-length Hanna-Barbera
Laurel & Hardy cartoon, in RealVideo



Laurel & Hardy "Bird Brains"
Hanna-Barbera (syndicated) 1966
---
---
Sign the Toon Tracker Guest Book-
Sign The Toon Tracker Guestbook
View The Current Toon Tracker Guestbook
View The Toon Tracker Guestbook Archive
---
This WEB site created and maintained by Ron Kurer.
Send comments to:
webmaster@toontracker.com
THIS SITE ORIGINATED MARCH 9, 1997
Updated July 4, 2008
TOON TRACKER © 1996 - 2006


Laurel and Hardy and Bozo the Clown © Larry Harmon Pictures. All other characters © Hanna-Barbera Productions. The Toon Tracker sites are not endorsed by any of the respective copyright owners. The creators and maintainers of this web site take no responsibility for the information provided herein. All products and brand names mentioned are trademarks or registered trademarks of their respective owners. All characters and all related slogans and indicia are trademarks of the respective copyright owners. The use of such material falls under Fair use provisions.
---