THE ANDY PANDA PAGE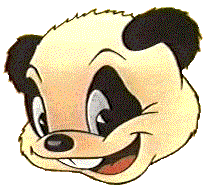 THE ANDY PANDA STORY -
Andy Panda first appeared on screen in 1939. His creation by Walter Lantz was inspired by the national attention given to the donation of a panda to Chicago's Brookfield Zoo the previous year. Andy's first film, the charming cartoon LIFE BEGINS FOR ANDY PANDA, was the one of only two films that featured Andy's mother, a sophisticated sounding lady panda. She was unnamed in the cartoons, but according to CRACKAJACK FUNNIES #39, her name was Permelia Panda. In MOUSE TRAPPERS, a later episode from 1941, she is seen again. She seems not at all happy with her husband, Andrew Sr., who fancies himself a great animal hunter. Andy's dad first appeared in LIFE BEGINS FOR ANDY PANDA. In this cartoon he appears muscle bound, and does not at all overweight, but that changes in his next appearance a couple of cartoons later when he is presented a lumbering buffoon. In each successive cartoon, the characters of Andy, his dad and mother improved, making them more appealing.
Another panda in this series Andy's girl friend, Miranda. She did not appear on screen until the very last film (SCRAPPY BIRTHDAY) in 1949, however, any comic book collector worth his weight in gold will tell you she appeared years before in 1941's CRACKAJACK FUNNIES #39 and #40. These were short strips that were probably meant to be a daily or weekly comic strip. They appear to have been designed in 1940 (according to the art) and were drawn by Walter Lantz himself. My guess is that the syndicates passed on the strip, so the 10 or so panels were put in the two issues of CRACKAJACK FUNNIES. The strips also featured a pet dinosaur named Dinah, whose origin is unknown. Andy Panda then left that comic and went to THE FUNNIES. He first appeared in issue #61 in November, 1941. The storyline of the comic is that Andy left his parents to go star in the movies. He was cared for by two human children in these strips and this saga ran from issue #61 through the last issue, #64. The story picked up again under the banner NEW FUNNIES, continuing until issue #69. At this point (issue #70) they started a new story, again featuring the boy and girl, that only ran to issue #74. It seems the story went unfinished because, in issue #75, Andy was drawn by a different artist. This new storyline ran for four issues, until #78.
ANDY PANDA COMIC BOOKS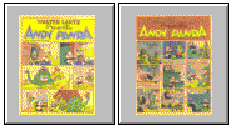 Click on one of the Andy Panda comic pages above to see it larger
In NEW FUNNIES #79 and from that point on, Andy appeared as he did in the films. In issue #79 (1943), in particular, he looks just like he did in the film MEATLESS TUESDAY. Andy's girl friend, Miranda, did not appear in the comics again until issue #104 (1945) where she appeared right on the cover. She then appeared from time to time, right up to her screen appearance in 1949's SCRAPPY BIRTHDAY. In that film she too, like Andy's mother, seems very sophisticated, and has expensive tastes (she wants a fur coat). Poor Andy finally does get her one, although it was a skunks coat! Well, that film ends quite violently. Miranda was kind of cute when she was first created in 1940-41. Like Andy, who wore nothing but his b/w fur, Miranda seemed to wear gloves on her front paws, a variety of hats on her head, and a red skirt.
ANDY AND MIRANDA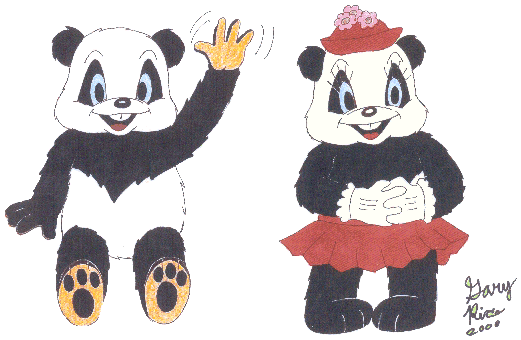 Above artwork by Gary "Biggy Rat" Rice
Andy was a very loveable bear. In his 29 films over the course of 10 years, he was either getting into trouble or causing it. It is unfortunate that some of Andy's early adventures have not been shown on television in years. This is because of the pygmies that come after Andy, trying to sell him to a zoo. Well, thanks to Columbia House, several of these cartoons are finally getting some air time at our homes on VHS tapes and DVD's. Columbia House released a ten volume WOODY WOODPECKER AND FRIENDS collector's edition series by mail order only. Unfortunately, two of Andy's films that do not appear in the collection are AIR RAID WARDEN and CANINE COMMANDOS. These are two WW2 era films that apparently are too dated for today's audiences. Two other films from the WW2 period that I do remember seeing in the 70s, though, were 21 DOLLARS A DAY ONCE A MONTH (also not in the Columbia House collection) and, of course, ANDY'S VICTORY GARDEN.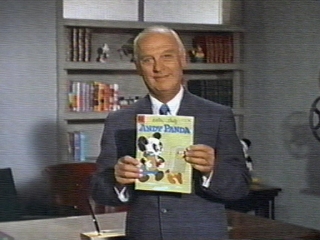 Andy Panda Filmography:
Click on an image to see it larger

1939
Life Begins For Andy Panda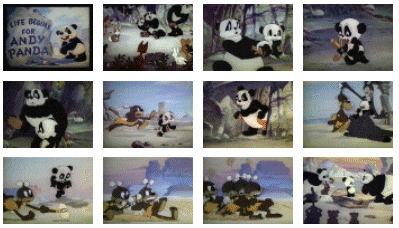 1940
Andy Panda Goes Fishing
100 Pygmies And Andy Panda
Crazy House
Knock Knock



1941
Mouse Trappers
Dizzy Kitty
Andy Panda's Pop (note: Andy Panda does not appear)
21 Dollars a Day Once a Month (cameo appearance)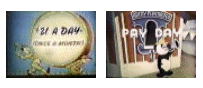 1942
Under The Spreading Blacksmith's Shop
Good-Bye Mr. Moth
Nutty Pine Cabin
Andy Panda's Victory Garden
Air Raid Warden

1943
Meatless Tuesday
Canine Commandos

1944
Fish Fry
The Painter and The Pointer

1945
Crow Crazy

1946
The Poet and the Peasant
Mousie Come Home
Apple Andy
The Wacky Weed

1947
Musical Moments from Chopin
The Bandmaster

1948
Banquet Busters
Playful Pelican
Dog Tax Dodgers

1949
Scrappy Birthday

1951
The Woody Woodpecker Polka (cameo appearance)
---
Click below to listen to
By The Serendipity Singers
---
Find out more about Walter Lantz at the
UCLA Film/TV Archive--Walter Lantz page.
Return To:
Ron Kurer's TOON TRACKER Home Page
For more on Woody visit
Toon Tracker's Woody Woodpecker Show Page


The Walter Lantz Cartune Encyclopedia




The World Wide Woody Woodpecker Web Site!
Van Eaton Galleries: Original Walter Lantz Cels, Drawings, and Model Sheets

Toonopedia's Walter Lantz Tribute

Universal's Official Woody Woodpecker Site


Chilly Willy's Sub-arctic WORLD!
This Web Site
Created & Maintained by
Gary "Biggy Rat" Rice and Ron Kurer.
UPDATED August 6, 2003
---
THIS SITE ORIGINATED JUNE 22, 2003
TOON TRACKER © 2003

---
Andy Panda and related characters are ™ & © 2003 Universal City Studios. The Toon Tracker sites are not authorized or endorsed by any of the respective copyright owners or licensees. They are presented solely for historical reference and educational purposes. The creators and maintainers of this web site take no responsibility for the information provided herein. All products and brand names mentioned are trademarks or registered trademarks of their respective owners. All characters and all related slogans and indicia are trademarks of the respective copyright owners. The use of such material falls under Fair use provisions