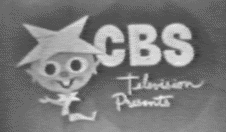 The Winky Dink And You Page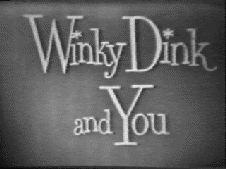 Winky Dink And You began on CBS-TV on October 10, 1953 and ran through April 27, 1957. It was hosted by Jack Barry, who had also hosted Juvenile Jury and other early game shows and went on to host Joker's Wild. He was joined on Winky Dink by Dayton Allen, who portrayed his incompetent assistant Mr. Bungle. The Winky Dink program and character was created and co-owned by Harry W. Prichett, Sr. and Edwin Brit Wyckoff, and was a Barry/Enright/Friendly Production in association with CBS-TV.
Mr Prichett sent me the following message regarding this page:

"Thank you for remembering Winky with such a pleasant Web Page.
Regards from Harry Prichett ,Creator of Winky."

Mr. Wyckoff sent me the following message regarding this page:

"Mr. Kurer, We appreciate your listing of Winky Dink & You history. Your avocation or vocation is fascinating.
Ed Wyckoff, Winky Dink co-originator"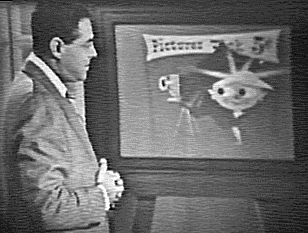 This was one of the first attempts at interactive television. Winky Dink was an animated character, voiced by Mae Questal (Olive Oyl), accompanied by his dog Woofer (voiced by Dayton Allen). Each episode featured the youngster winding up in trouble, and requiring a vital object to assist in his escape. Host Jack Barry would ask the viewers to get out their Winky Dink Kits, which included 5 crayons and a clear sheet of plastic. They were told to put the plastic sheet over their television screen and draw in the life-saving prop, using the crayon provided. The ingenious gimmick of this show was also a very profitable merchandising scheme. Young viewers were urged to get their own Winky Dink Kit by sending 50 cents to 'Winky Dink, Box 5, New York 19 N.Y.'. To further involve the audience, a word or series of letters would suddenly appear on the screen. The kids were then instructed to to trace the letters onto the plastic sheet to receive a secret message. The secret messages were a two part game. First the kids were shown part of a word (such as all the horizontals in the letters). This was traced on the screen by the kids. Then the horizontals were removed from the screen and the vertical lines were shown. Only the kids with the Winky Dink Kit got the message, and it was a secret from everybody else.
A revival of the Winky Dink concept was attempted in 1969. It was paid for and produced by Standard Toykraft, a Brooklyn-based toy company which had produced all the kits way back in the fifties. Rembrandt Films and animation producer Fred Calvert did 65 five minute color cartoons for syndication. Around the same time, consumer groups began questioning affects of TV tube radiation. TV sets in the 50s and 60s had no federal manufacturing standards and might or might not produce radiation. These consumer groups were urging viewers not to get too close to their TV sets. The campaign was successful and the new Winky Dink cartoons were withdrawn from distribution. By mid-1970s the government set rigid manufacturing standards for all sets produced in U.S. or imported. There is absolutely no radiation from sets produced since the mid 1970s.
John Cooksey of Elite Video writes:
"...in reference to the Winky Dink show. Not so much the radiation from the TVs but, the stations were mainly getting alot of complaints from parents whose kids were foregoing the plastic and writing on the screen directly. (My wife said she did this to her mother's chagrin way back when ) And I think I may have too. It was too tempting as a kid who didn't have the plastic and didn't know where to get it as there parents were sleeping on Saturday morning. Many parents knew nothing of Winky and imagine the shock of our parents (and the swatting of the kids) when they turned on to watch the nightly news and had crayon all over Cronkite's face! I'm sure many a family had this situation------ "What do you mean the man on TV told you to draw on the TV screen!!!!, Ill teach you not to lie ! SPANK!"
Harry W. Prichett Sr. Dies
NEW YORK (AP) - "Harry William Prichett Sr., a graphic artist and creator of the interactive television program ``Winky Dink and You,'' died February 5, 2000. He was 79.
The program, which initially aired in 1954, was television's first attempt at interactive broadcasting, and spawned from Prichett's idea of turning the TV set into a toy and teaching aid for children. The title character Winky would embark on adventures with his dog, Woofer. Winky usually ran into trouble and asked children to draw something on the screen, like a bridge over a river. The program ran for four years on CBS.
The show returned, with 65 color cartoons, and ran in syndication from 1969 to 1973. It was revived again in the 1990s as a video kit featuring newly digitized cartoons and new hosts."
My condolences go out to the family and friends of Mr. Prichett. Mr. Prichett had sent me email several times since this page was initiated. Here is one of those correspondences:
Hi Ron Kurer:
Thank you for responding to my Sons questions regarding past "Winky Dink" TV programs;
The 'Winky Dink' Property is currently being represented by Hollywood Ventures Corp in LA; They have an option for another year.
HVC produced and packaged three new pilot shows. They plan on distributing WD Kits containing a Video Cassette,Crayons,Plastic Sheet and a few Crayons. They should be in Toy stores within the next several months.
Thank you for your interest and I'll keep you informed as to Winky's renewed public appearance.
The origination credit reads, Originated by Harry W. Prichett and Edwin Brit Wyckoff.
I have a junior partner in the project.
If you have any questions regarding Winky's development, please don't hesitate to call me as well as E-mailing
Best Regards, Harry
Press Release:

Do You Remember "WINKY DINK"?

Psychiatrist Brings Back
"Winky Dink" on Video to Empower Kids!
"Winky Dink and You", the first and only interactive TV show for kids, which took the nation by storm when it originally aired in the 1950s, '60s and '70s, is now being launched in a video-toy kit! Winky Dink and his pet dog, Woofer, are classic animated characters, who engage children in their adventures by directly involving them in the storytelling. Winky asks them to put their magic plastic screen on the TV set and draw on it with their magic crayons to help solve Winky and Woofer's dilemmas. For example, Winky asks them to trace a rainbow in one scene -- and it then becomes a bridge in the next scene, helping Winky cross a river to safety.

"Kids have never needed Winky Dink more than today," says renowned media psychiatrist, Dr. Carole Lieberman, who spent the past decade working to bring Winky back. "I believe that Winky Dink is the best TV show ever produced, because of its unique ability to empower children. Each time a child creates something that helps Winky and Woofer solve a problem, they get that 'I can do it!' feeling which builds self-esteem. And this generation of children, facing problems that are tougher than ever -- from divorce to terrorism -- need to feel they can find the creative solutions inside themselves!"

Ed Wyckoff, the co-creator of Winky Dink, says, "If a young child could choose, he'd be born with each finger a different-colored crayon. Winky Dink allows a child to fulfill his need to make a unique mark and not feel left out."

Now you and your family can have that "I can do it feeling!" since Dr. Carole's efforts have succeeded, enabling the first video-toy kit of "Winky Dink and You" to be available beginning March 26th, 2002. Produced by Adam Snyder, of Rembrandt Films, and distributed by Vanguard Cinema, the kit will include: a magic plastic screen, magic crayons, a cloth eraser and a video of 9 Winky Dink episodes."

Winky Dink and You became a national phenomenon in the 1950s and then again in the 1970s. Now it is back, and on video. You can purchase individual videos for $9.95 each or buy the Kit with nine cartoons, six crayons, the magic screen and magic erasing cloth all for just $14.95! Click on the picture above to purchase through Amazon.com. There are also DVDs available for sale.
---
Links:
TV Party's Winky Dink and You! page
Winky Dink and You! Animations from Rembrandt Films
This WEB site created and maintained by Ron Kurer.
Send comments to:
webmaster@toontracker.com
TOON TRACKER © 1997 - 2005
(Additional information courtesy of
Edwin Brit Wyckoff and the late Harry W. Prichett Sr.)
Updated October 7, 2005
---
The Toon Tracker sites are not endorsed by any of the respective copyright owners. The creators and maintainers of this web site take no responsibility for the information provided herein. All products and brand names mentioned are trademarks or registered trademarks of their respective owners. All characters and all related slogans and indicia are trademarks of the respective copyright owners. The use of such material falls under Fair use provisions.
---
This site originated April 5, 1997
---