with Underdog and Tennessee Tuxedo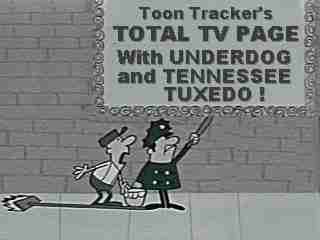 Below you will find brief descriptions of the Total TV shows,
along with links to a separate page for the shows which include pictures.
---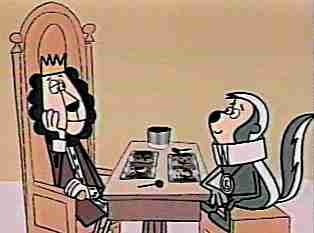 King Leonardo and His Short Subjects
[10/15/60 - 9/28/63]
Renamed The King and Odie in syndication, King Leonardo and his Short Subjects began on NBC-TV October 15, 1960.
Click here to visit the Toon Tracker's King and Odie Page
---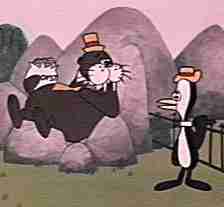 Tennessee Tuxedo
[9/28/63 - 12/17/66]
Tennessee Tuxedo was introduced on CBS-TV in response to the 1961 speech by FCC Chairman Newton R. Minow which addressed television as a "vast wasteland".
Click here to visit the Toon Tracker's Tennessee Tuxedo Page
---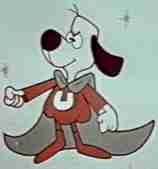 Underdog
[10/3/64 - 9/1/73]
"There's no need to fear, Underdog is here!" Wally Cox, TV's mild-mannered Mr. Peepers, provided the voice of NBC-TV's Underdog, a super-canine who talked in rhyme.
Click here to visit the Toon Tracker's Underdog Page
---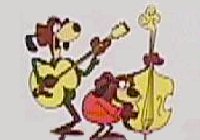 The Beagles
[9/10/66 - 9/7/68]
Stringer and Tubby were a pair of rock and roll canines whose misadventures frequently landed them in the doghouse. Presented on CBS-TV in five-minute serialized adventures, The Beagles were an obvious attempt to cash in on the sound-alike name of the Fab Four from Liverpool, who began their own show the year before on ABC-TV. When the series failed to generate high ratings, it was cancelled by CBS. It was repeated the following season on ABC before it quickly disappeared.
Click here to visit Toon Tracker's The Beagles page
---
The Go-Go Gophers
[9/14/68 - 9/6/69]
First seen in 1966 on The Underdog Show, The Go-Go Gophers appeared in their own series on CBS-TV and featured a pair of buck-toothed gophers, Ruffled Feathers, who spoke in unintelligible phrases, and his interpreter Running Board.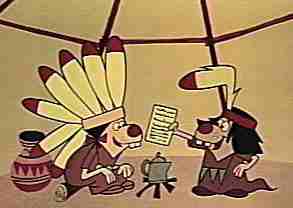 They were the native inhabitants of Gopher Gulch, which was also home to a U.S. Cavalry Fort. The Fort was headed by Colonel Kit Coyote, a blustery Teddy Roosevelt-type. He was aided by Sergeant Okey Homa, a southerner who resembled John Wayne. The military-minded Colonel spent his time planning new ways to drive the gopher-Indians from their lands. The native gophers devised ingenious and successful ways to protect their territorial rights. Sandy Becker provided the voices of Ruffled Feather and Sergeant Okey Homa. George S. Irving was the voice of Running Board and Kenny Delmar spoke for Colonel Kit Coyote. The show also featured repeats of Klondike Kat and a Hanna-Barbera cartoon, The Space Kidettes, which was also controlled by General Mills.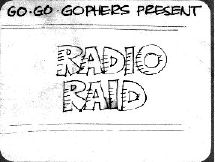 Visit California Animation Online for a rare look at storyboard drawings from a Go Go Gophers adventure.
---
The Summer-Fall 1997 issue of Animato! (issue 38) has several great articles focusing on Underdog and the other Total Television cartoons. Joe Harris even did an original cover for the issue!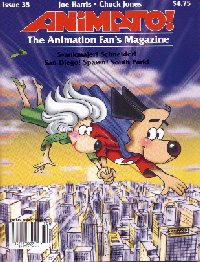 The articles help to fill in many of the blanks.
---

ANNOUNCING A NEW BOOK -

Created and Produced by
Total TeleVision Productions:
The Story of Underdog, Tennessee Tuxedo and the Rest
by
Mark Arnold

The ultimate guide to the cartoon empire, Total Television!

Here at last is the real story of how TTV was formed! Inside you will find rare production artwork and storyboards, as well as reminiscences from TTV's founders.

Front cover by Mike Kazaleh ("Ren and Stimpy", "The Simpsons")
Back cover comment by Scott Shaw! ("Captain Carrot", "The Flinstones", "Scooby-Doo")
Written by Mark Arnold ("Hogan's Alley", "ComicBase", "Atomic Mouse")
380 pages! Full color covers! Complete Total TeleVision history!

Published by
BearManor Media
---
This WEB site created and maintained by RON KURER. Send comments to:
TOON TRACKER © 1997, 2009
---
Go To Toon Tracker Home Page
---
Underdog and all related characters © 2009 Classic Media, Inc. The Toon Tracker sites are not endorsed by any of the respective copyright owners. They are presented solely for historical reference and educational purposes. The creators and maintainers of this web site take no responsibility for the information provided herein. All products and brand names mentioned are trademarks or registered trademarks of their respective owners. All characters and all related slogans and indicia are trademarks of the respective copyright owners. The use of such material falls under Fair use provisions
---
Updated June 22, 2009
Since June 11, 1997