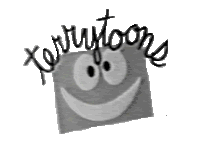 The End of Terrytoons
Terrytoons officially closed it's doors in 1971. The FCC decided that the major networks could no longer sell programming to independent TV stations. CBS Films was spun off and became Viacom. In an effort to cut costs, Viacom ceased Terrytoons animation production, content to just sell their inventory in syndication. This wasn't the end of new shows featuring Terrytoons characters, though.
In 1979, Viacom licensed the old characters to Filmation Associates for an hour-long series on CBS, The New Adventures of Mighty Mouse and Heckle and Jeckle. The crude quality of this new series made even the worst of the old Terrytoons product look like a Disney feature! In addition to new shorts featuring Mighty Mouse and Heckle and Jeckle, this series included Mighty Mouse Environmental Bulletins and cartoons featuring a new character, Quacula, created by Filmation. Happily, this wasn't the end of Mighty Mouse.
In 1987, animator Ralph Bakshi returned to his roots and licensed the character for a new CBS-TV series, Mighty Mouse: The New Adventures. The new series pitted Mighty Mouse against such new adversaries as the Cow and Petey Pate, and had him join forces with other new characters including Bat-Bat and Tick the Bug in the fight against crime. The Mighty Heroes even returned for a guest role. Unfortunately the series didn't last, thanks to a parents group which falsely accused Mighty Mouse of drug use. In one scene Mighty Mouse was seen sniffing some flowers, and the group claimed it was cocaine. CBS-TV bowed to pressure and removed it from the air. It did turn up again, briefly, in the 1990's on FOX.
---
---
This WEB site created and maintained by Ron Kurer. Send comments to:
webmaster@toontracker.com
UPDATED FEBRUARY 5, 1998
---
Leave a message in the Toon Tracker Guest Book-
Sign The Toon Tracker Guestbook
View The Toon Tracker Guestbook
---
SINCE JANUARY 7, 1998.
TOON TRACKER © 1996 - 2006

Terrytoons and all related characters are © Viacom. The Toon Tracker sites are not endorsed by any of the respective copyright owners. The creators and maintainers of this web site take no responsibility for the information provided herein. All products and brand names mentioned are trademarks or registered trademarks of their respective owners. All characters and all related slogans and indicia are trademarks of the respective copyright owners. The use of such material falls under Fair use provisions.