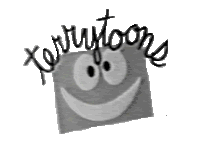 Terrytoons And CBS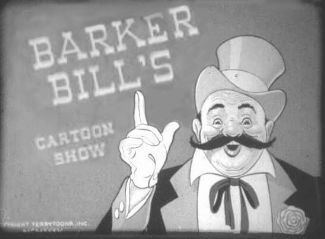 While several minor animation studios had been selling their inventory to television for several years, Terrytoons, in 1952, became the first major studio to sign up with the relatively new medium. Farmer Alfalfa and other vintage black and white Terrytoons product appeared on CBS-TV's Barker Bill's Cartoon Show, the first network weekday cartoon series. Appearing twice a week, the series eminated from WCBS, New York, and was 'hosted' by Barker Bill, who was actually just a picture of the Barker Bill character with an off-camera announcer introducing the cartoons. Terry's relationship with CBS was so profitable for the network that, in 1955, they offered Terry $3.5 million dollars for his company. Terry quickly accepted and retired a wealthy man. Terry's longtime business manager, Bill Weiss, took over as Terrytoons executive producer. Max Weiss, Bill Weiss' grandson, wrote the following to me:

"My Grandfather, William Weiss, was vice-president and the executive-producer of Terrytoons. He became president of Terrytoons when it was purchased by CBS. He remained president when CBS transferred Terrytoons to a new company named Viacom. He retired when Viacom closed down Terrytoons. Viacom retained my grandfather as a consultant for over twenty-five years."


The 1954 Barker Bill Comic Strip, credited to Paul Terry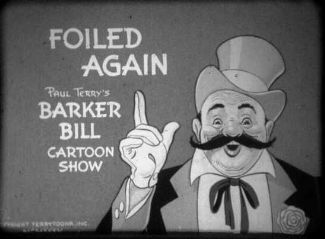 Barker Bill continued on the network until 1956, at which time CBS Films re-packaged the cartoons as Farmer Alfalfa and His Terrytoons Pals for syndication. They also appeared in various other forms on local stations throughout the country. WOR-TV in New York ran them for ten years as The Terrytoons Circus, hosted by Claude Kirschner, fresh from ABC-TV's Super Circus.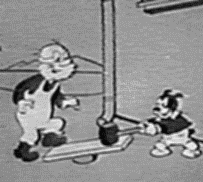 CBS-TV, meanwhile, hired fledgling comedian Dick Van Dyke to host the first network prime-time cartoon show, The CBS Cartoon Theater, for a three month, 13-episode run from June 13, 1956 through September 5, 1956.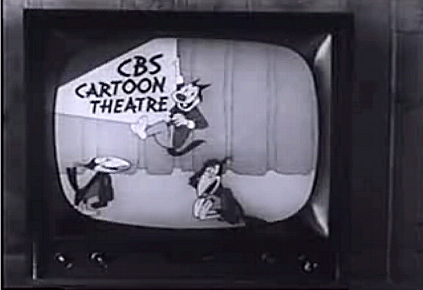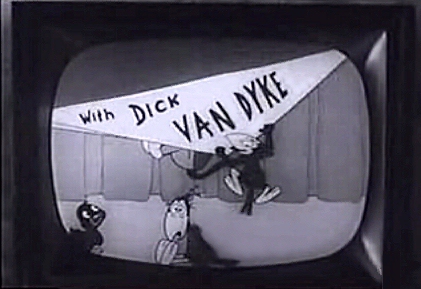 This series, like Barker Bill, originated from WCBS-TV in New York. The show was set in Van Dyke's living room, where he chatted with the Terrytoons characters, who then responded using stock film clips. On the first episode, Van Dyke was trapped by Heckle and Jeckle and also carried on a conversation with Little Roquefort.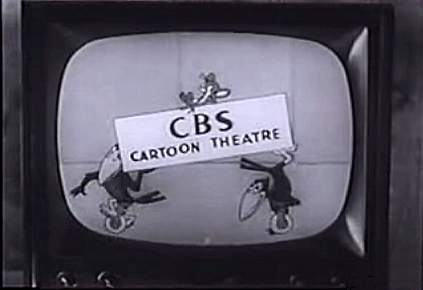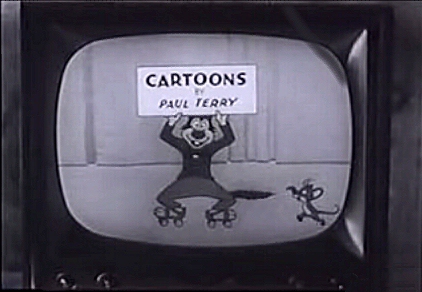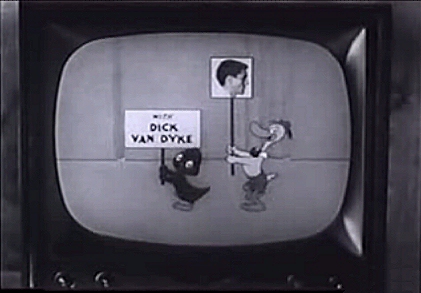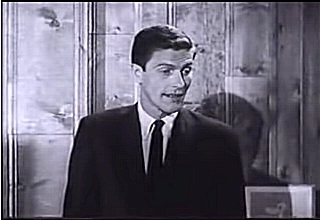 Also in 1956, CBS hired 31 year old Gene Deitch to replace Paul Terry as the creative director of Terrytoons. He had been the creative director of UPA in New York, and he brought with him to Terrytoons a new and refreshing approach to cartoon production. His ability to identify talent led to the hiring of Jules Feiffer, Eli Bauer, R.O.Blechman, Tod Dockstader, Ray Favata, Ralph Bakshi, Al Kouzel, Ernest Pintoff and others. His vision was to re-invent the studio, to create a Terrytoons "renaissance".
Deitch's revolutionary ideas alienated him from most of the old-timers at Terrytoons. Bill Weiss never liked Deitch's cartoons, and there were others at Terrytoons who felt the same way. They were content to continue producing the same stale product which they pumped out under Terry's reign. Deitch's stay at Terrytoons was short, but in the two years he was there they turned out some exciting cartoons. They were getting noticed and began earning the praise and recognition which, in the early 1950's, had been reserved solely for UPA. Mr. Deitch recently wrote to me "...we created many other characters, such as Sidney the Elephant, Clint Clobber, Gaston Le Crayon, John Doormat, Foofle... most of which were smothered in my own personal conflict with studio manager Bill Weiss..."
In 1958, Bill Weiss decided to fire Gene Deitch and took over complete control of Terrytoons himself. This led to the abandonment of most of the new characters, and a revival of Mighty Mouse and Heckle and Jeckle. Deitch moved to Prague shortly after his departure from Terrytoons. In the early 1960's he worked on some made-for-TV Popeye shorts for King Features, revived the Tom and Jerry characters in a series of thirteen shorts for M-G-M, and won an Oscar in 1960 for "Munro". He continues to live in Prague today, and wrote a book a few years ago about his career in which he offers his unique insight into the animation world. The autobiography, "For the Love of Prague", is over 300 pages with illustrations (some in color). Mr. Deitch has also finished writing a new book called "How To Succeed In Animation (Don't Let A Little Thing Like Failure Stop You!)", which is available online at AWN.com. The book is free of charge to all readers, and a printable Adobe Acrobat formatted version of the entire book is also available for purchase.
Mr. Deitch wrote me a few years ago with a request. I am hoping that someone reading this may be able to help:
"...I have been searching for over 35 years for a copy of my first color entertainment cartoon, which was produced in 1952 (+-) for the Kagran Corporation, owner of the Howdy Doody Show on NBC. My film was originally titled, HOWDY DOODY AND HIS MAGIC HAT. It was later used on UPA's CBS TV McBoing-boing Show - possibly with another title. That is what makes it hard to find! The film was done with paper cut-out animation, and featured a little freckled-faced boy, (presumably Howdy Doody), who is enchanted by the feats of a rodeo cowboy who wears a bejeweled cowboy hat. The hat blows off, and little Howdy rushes to rescue it. It blow through woods, etc., and lands on various animal's heads. At once, the animals become super, and Howdy believes that if he can get the hat he will then be able to perform dazzling rodeo rides. He does, but the hat blows off him also, and he is forced, (the moral!), to do it on his own... which of course he does. The design is very stylized, (by Cliff Roberts), with effective cut-out animation (by Duane Crowther), and may be identified by the fact that the film intentionally starts out of focus (well, it was my first film!), with the jeweled hat gradually forming to musical notes. I had a 16mm print until 1959, when someone borrowed it, and it was lost in the mails!!! If you could possibly find this film, it would have tremendous meaning for me, in the twilight of my film career! I am now 73 years old, still working, but obviously my "cutting edge" days are over..."
If anyone has knowledge of this film, or where a copy can be found, please e-mail me at webmaster@toontracker.com. I will forward all correspondence regarding the film to Mr. Deitch. Thanks in advance.
Continued on Page 3 - Terrytoons - The TV Series
---
This WEB site created and maintained by Ron Kurer. Send comments to:
webmaster@toontracker.com
UPDATED JULY 2, 2006
THIS SITE ORIGINATED JANUARY 7, 1998.
TOON TRACKER © 1996 - 2006

Terrytoons and all related characters are © Viacom. The Toon Tracker sites are not endorsed by any of the respective copyright owners. The creators and maintainers of this web site take no responsibility for the information provided herein. All products and brand names mentioned are trademarks or registered trademarks of their respective owners. All characters and all related slogans and indicia are trademarks of the respective copyright owners. The use of such material falls under Fair use provisions.