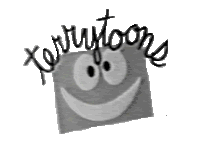 Terrytoons - Before Television
Paul Terry (1887-1971) became interested in animation around 1914, after viewing Winsor McCay's Gertie the Dinosaur. While working as an illustrator at the New York Press, he began work on his first film, Little Herman, which he sold to the Thanhouser film company. After contracting some work from William Randolph Hearst, he beame a staff artist at the J. R. Bray Studios, producing his Farmer Alfalfa series. He left Bray in 1917 to join the Army.
At the end of World War I, Terry formed a company with several fellow animators and produced Farmer Alfalfa cartoons for Paramount until 1920. In 1920 he teamed with writer Howard Estabrook and began making the Aesop's Fables series for Pathe, many featuring Terry's Farmer Alfalfa character. To fund the cartoons, Terry set up an arrangement with The Keith-Albee Theater circuit, and formed Fables Pictures, Inc. The company was 90% owned by Keith-Albee (which eventually became RKO), with Terry owning the remaining 10%..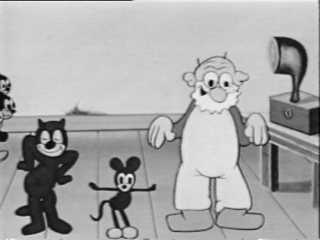 In 1928, Keith-Albee sold their interest in the renamed Fables Studio to Amadee J. Van Beuren and his Van Beuren Productions. Terry and Van Beuren disagreed over the direction the cartoons should take. Van Beuren wanted to synchronize the sound tracks, while Terry was content to add simple sound tracks to his silent product. The disagreement led to Terry leaving Fables Studio.
Terry then teamed with animator Frank Moser and formed a new company. They released their product through Educational Pictures, who in turn supplied the cartoons to the short-subject department of Twentieth Century Fox. Terry continued to resist changes in the production of his animated product. Terry's first color cartoon wasn't released until 1938, and that was only because of pressure from Fox and Educational.
Alex Anderson, a nephew of Paul Terry, worked at Terrytoons when he originally conceived the Crusader Rabbit series. He tried to talk his uncle into developing a cartoon series with him for television. Terry, initially fearing that TV might tarnish his image as a theatrical cartoon producer, turned him down. Anderson, undaunted, decided to try it himself and soon left Terrytoons.
Around this same time Terry began allowing directors to introduce new starring characters. Farmer Alfalfa was put into retirement. Gandy Goose, Mighty Mouse (initially christened Super Mouse) and Heckle and Jeckle soon appeared. These cartoons, as repetitious as their plots were, formed the basis of Terrytoons output into the 1950's.
Continued on Page 2 - Terrytoons and CBS
---
---
This WEB site created and maintained by Ron Kurer. Send comments to:
webmaster@toontracker.com
UPDATED JANUARY 7, 1998
---
Leave a message in the Toon Tracker Guest Book-
Sign The Toon Tracker Guestbook
View The Toon Tracker Guestbook
---
SINCE JANUARY 7, 1998.
TOON TRACKER © 1996 - 2006

Terrytoons and all related characters are © Viacom. The Toon Tracker sites are not endorsed by any of the respective copyright owners. The creators and maintainers of this web site take no responsibility for the information provided herein. All products and brand names mentioned are trademarks or registered trademarks of their respective owners. All characters and all related slogans and indicia are trademarks of the respective copyright owners. The use of such material falls under Fair use provisions.