Spunky and Tadpole Page
---

Spunky was a little boy whose Teddy Bear, Tadpole, had come to life. The duo appeared in serialized adventures, with ten episodes comprising a complete story. Produced by Beverly Hills Film Corporation/TV Cinema Sale/Guild Films. The owner of the show was Barnet Films. ZIV International assumed distribution in 1978. The cartoons first appeared in syndication on September 6, 1958. Spunky was voiced by Joan Gardner and Tadpole voiced by Don Messick and later Ed Janis. The cartoons were usually aired during locally hosted children series.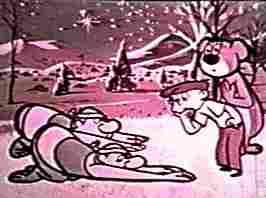 The shoddy production values of The Spunky and Tadpole cartoons failed to live up to the promises and expectations of the producers/distributors. The following information and the episode guide, from Hal Erickson's "An Illustrated History of Animated Cartoons", is courtesy of Dan McCormick:
"Ultra-chintzy both in concept and execution... Spunky and Tadpole was given a big-bucks promotional sendoff in 1958 by its first syndicator, Guild Films. A major TV distributor of the period thanks to such valuable properties as the Liberace Show and the Warner Bros. Looney Tunes theatrical cartoons, Guild secured bookings for Spunky and Tadpole in several top markets, promising a series that would appeal equally to grownups and children. Competition from stronger syndies like Huckleberry Hound and the Three Stooges shorts caused Spunky & Tadpole to fall by the wayside, and when Guild disappeared in a merger at the end of the 1950s, the cartoons were shunted around to several minor distributors. Offered at bargain rates to less affluent stations in smaller markets, Spunky & Tadpole continued to play unobtrusively into the mid-1960s."
---
EPISODES
| | |
| --- | --- |
| 1-10 | The Count of San Francisco |
| 11-20 | A Message to Marcia |
| 21-30 | The Smugglers |
| 31-40 | Lost in Outer Space |
| 41-50 | Secret of Cactus Corners |
| 51-60 | The Frozen Planet |
| 61-70 | The Private Eyes |
| 71-80 | Moon Trip |
| 81-90 | London Mystery |
| 91-100 | Casaba Capers |
| 101-110 | Counterspies in Secret Guise |
| 111-120 | The Mixed-Up Monster |
| 121-130 | North Pole Caper |
| 131-140 | Buried Treasure |
| 141-150 | Circus Craze |
---

Watch Spunky and Tadpole

Visit Ron Kurer's TOON TRACKER Home Page
---
This WEB site created and maintained by Ron Kurer. Send comments to:
webmaster@toontracker.com
UPDATED FEBRUARY 29, 2000
---
THIS SITE ORIGINATED JANUARY 3, 1997
TOON TRACKER © 1997 - 2000

The Toon Tracker sites are not endorsed by any of the respective copyright owners. The creators and maintainers of this web site take no responsibility for the information provided herein. All products and brand names mentioned are trademarks or registered trademarks of their respective owners. All characters and all related slogans and indicia are trademarks of the respective copyright owners. The use of such material falls under Fair use provisions.