THE ANIMATED LUCY OPENING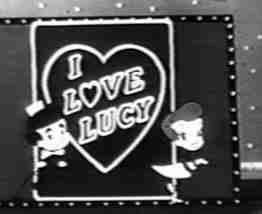 ---
Everyone remembers the original opening to the I Love Lucy show. The satin background with the heart, and the title "I Love Lucy" appearing in the heart, right. WRONG!!
The now familiar heart first appeared when CBS-TV began airing reruns of the series on Saturday nights in the 1957. The original 1951 opening featured animated stick figures of Lucille Ball and Desi Arnaz riding an elevator to the rooftop of the high rise apartment building they lived in. The sponsor, Phillip Morris cigarettes, was featured prominently in the openings, which may account for it's absence in the reruns.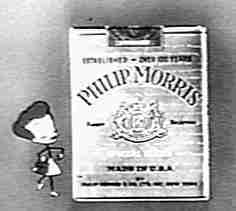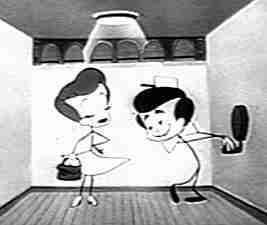 The animation was done by Gene Hazelton and the Hanna-Barbera unit at MGM. It went uncredited during the run of the show. Joe Barbera, in his 1994 autobiography "My Life In Toons", explained that MGM, at the time, had hatred and contempt for the relatively new television medium. Barbera and Bill Hanna had to arrange the deal in relative secrecy, out of fear for their jobs.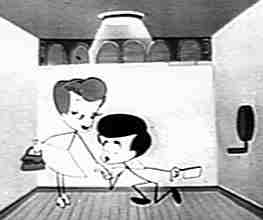 Hanna-Barbera worked with Desilu studios again in 1957, animating the openings to the hour-long Lucille Ball-Desi Arnaz Show series of specials. These specials were later rerun as the Lucy-Desi Comedy Hour, again minus the animated openings.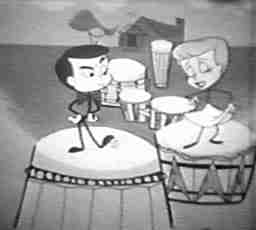 ---
See the Original animated I Love Lucy Theme in RealVideo!
Encoded for 56 Kbps.



I Love Lucy (original animated opening)
Desilu (CBS-TV) 1951
See the Original animated Lucille Ball-Desi Arnaz Show Theme in RealVideo!
Encoded for 56 Kbps.



The New Lucille Ball-Desi Arnaz Show
Desilu (CBS-TV) 1957

For more on the Lucy cartoons, see
Animation and Cartoon Heaven's I Love Lucy : The Lost Toons

(archived)
See more Toon Tracker Animated Openings to Classic TV
---
The TOON TRACKER sites are
created and maintained by Ron Kurer
Send comments to:
webmaster@toontracker.com

Back To: TOON TRACKER FRAMES Home Page
---
UPDATED March 15, 2005
---
This page

originated July 24, 1997

TOON TRACKER © 1997, 2005

---