HUCKLEBERRY HOUND

The Huckleberry Hound Show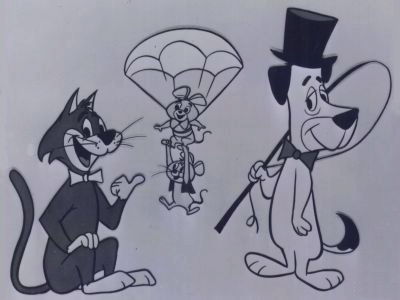 The biggest show in town is Huckleberry Hound
For all you guys and gals.
The biggest clown in town is Huckleberry Hound
With all his cartoon pals.

It's Huckleberry fun, it's for everyone,
So come on, gather 'round.
Get yourself all set,
Turn on your TV set
For Huckleberry Hound.

That oh, so merry, Chuckleberry,
Huckleberry Hound.
"The Huckleberry Hound Show" was William Hanna and Joseph Barbera's second made-for-TV series ("The Ruff and Reddy Show", NBC-TV 1957-60 was their first.) The series premiered in 1958 and starred a dim-witted, good-natured hound dog with a Southern drawl. The show took television audiences by storm. Sponsored nationally by Kellogg's Cereals, the show was the first fully animated series made strictly for television, in contrast to those hosted by live performers or ones with a cinematic history.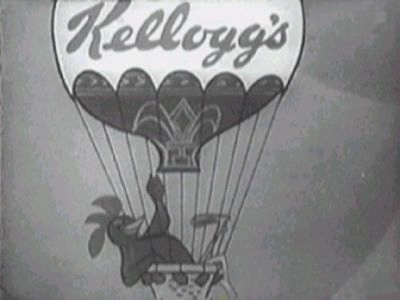 With a limited budget of about $2,800 per television episode, Hanna and Barbera invented a technique called "limited animation." This process, used in their first series, greatly reduced the number of drawings needed to complete a single cartoon, and the technique would carry them to the top of the ratings chart for the next three decades.

Syndicated on October 2,1958, and aired most frequently on Thursday afternoons, "Huckleberry Hound" was about an honest, hard-working dog who was trying out a variety of careers. In the premiere episode, "Wee Willie," Police Patrolman Huckleberry is assigned the difficult task of returning a playful escaped gorilla to the zoo. Subsequent episodes involved his pursuing such occupations as mailman, truant officer, veterinarian, lion tamer, explorer, mounted police officer, firefighter, and once even dogcatcher.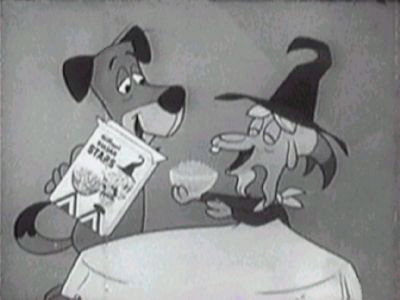 Huckleberry's relaxed Southern accent was provided by the late voice actor Daws Butler. A master of more than 100 vocal characterizations, Butler had previously worked with Hanna and Barbera at the MGM studios when the team was producing the extremely popular "Tom and Jerry" theatrical cartoons.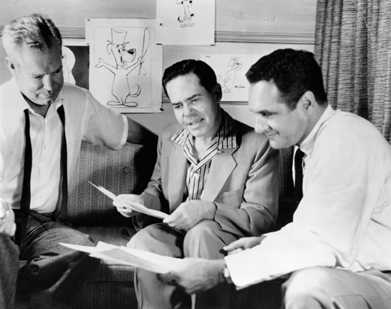 "Pixie and Dixie" and "Mr. Jinks" were the first additional segments on the 30-minute program. Pixie and Dixie were two little mice who were constantly menaced by their playful nemesis. Jinks the Cat, who "hates meeces to pieces." The theme was a low-budget version of Hanna and Barbera's old "Tom and Jerry" cartoons, with the addition of an extra mouse.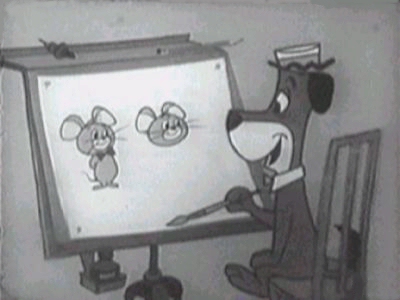 Next came the immensely popular Yogi Bear, whose adventures made up the second featured segment. Calling himself "smarter than the average bear," Yogi was an inhabitant of Jellystone National Park, and the free-spirited bear was constantly busy pilfering picnic baskets, to the disapproval of his diminutive friend Boo Boo, as well as that of the generally good-natured Ranger Smith.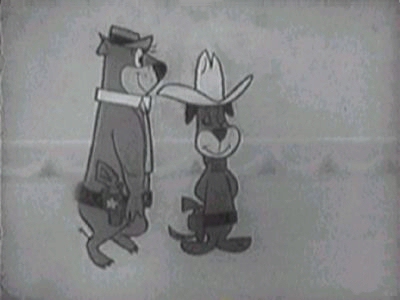 Voiced by Daws Butler, Yogi resembled Art Carney's Ed Norton, from "The Honeymooners" series, from his vocal attributes to his pork pie hat with the tilted brim. Yogi's success on The Huckleberry Hound Show, which even rivaled that of its star, eventually led to his own series in the fall of 1961 (click here to see separate entry). He was replaced by an even smarter animal, the conniving Hokey Wolf, whose gift for gab and deceit closely resembled comedian Phil Silver's Sergeant Bilko.

Although children comprised the show's largest audience, "The Huckleberry Hound Show" also became a favorite with many adults. In 1959 it was awarded an Emmy for Best Children's Program. It was the only cartoon series ever to win such an honor, until the premiere six years later of Charles Schulz's "A Charlie Brown Christmas." The success of the series eventually led to a string of similarly animated types and brought in millions of dollars in sales revenue through products bearing the likenesses of the show's characters.

Through several revivals in the 1970s, with pal Yogi Bear, including repeats of the old shows. Huckleberry Hound remains one of television's most memorable cartoon characters.

NOW AVAILABLE -
Daws Butler - Characters Actor
by Ben Ohmart & Joe Bevilacqua
FORWARD BY: Nancy Cartwright (the voice of Bart Simpson)
His voice can be heard in countless classic animated cartoons, still seen on TV around the world daily. He was Yogi Bear, Huckleberry Hound, Quick Draw McGraw, Baba Looey, Super Snooper, Blabbermouse, Snagglepuss, Augie Doggy, Mr. Jinks, Wally Gator, Elroy Jetson, Cap'n Crunch and hundreds of others. He worked with nearly every major animation director, including Messers Hanna and Barbera, Jay Ward, Walter Lantz, Chuck Jones, and Tex Avery. He worked puppets for Bob Clampett (Beany and Cecil). Fans included Groucho, Harpo, Lionel Barrymore and even Albert Einstein. His collaborations with satirist Stan Freberg sold millions of records. Yet you have probably never heard of him. His name was Daws Butler.

Now, for the first time, DAWS BUTLER: CHARACTERS ACTOR brings you up close and personal into the life of the man who many consider to be the greatest voice magician of the 20th Century. From his early days in radio in the 1940s to his five years as puppeteer on Time for Beany, from his astonishingly creative days at Hanna-Barbera in the 1950s and '60s to his enduring legacy as mentor to the likes of such up-and-coming actors as Nancy Cartwright (Bart Simpson) in the 1970s and '80s until his death in 1987, this authorized biography includes detailed eye-witness accounts and personal reminisces by his colleagues, including Joe Barbera, Bill Hanna, Doug Young (Doggy Daddy), Don Messick (Boo Boo, Ranger Smith), June Foray (Rocky the Flying Squirrel) and Stan Freberg, as well as Daws's friends and family. Best of all, the book includes the words of Daws Butler himself telling his own story, through never-before-published interviews, letters and personal phone conversations. In addition, Nancy Cartwright pays loving tribute to her mentor in the book's foreword.

How did Daws create the voice of Huckleberry Hound? What did comedian Bert Lahr think of Snagglepuss? Who made the first Cecil puppet? What was the Daws Butler Workshop? What was it like having Yogi Bear as a dad?

The stories in this book will entertain, inform and astound! He was an actor, a writer, a mentor, a husband and a father. He was DAWS BUTLER: CHARACTERS ACTOR.
The official biography of the voice of Yogi Bear, Huckleberry Hound and all things Hanna-Barbera. This first book on master voice actor Daws Butler has been assembled through personal scrapbooks, letters and intimate interviews with family and co-workers.
Just $24.95 + $2 postage (foreign orders please add $3 additional for airmail).
Click this line to pay with Visa or Mastercard

ORDER IT ON DVD -
The Emmy award-winning show about the adventures of a blue dog with a southern drawl, The Huckleberry Hound Show: Volume One 4-Disc Collector's set features the first 26 remastered and restored episodes from series. Order it NOW by clicking on the picture above.

Hear t
he theme songs from Huckleberry Hound, in RealAudio!
Hanna-Barbera Productions (Screen Gems)1958
Or Down-load

Listen to a classic Kellogg's commercial, in RealAudio!

The Kellogg's Yogi Bear Corn Dance

Or Down-load To Play As A Local File

This Web Site Created And Maintained By
Ron Kurer
Visit the Official Daws Butler Website
Go to The Toon Tracker Home Page
Since December 15, 2002
Updated November 16, 2005

TOON TRACKER © 2002, 2005

Huckleberry Hound and all related characters © Hanna-Barbera Productions. The Toon Tracker sites are not endorsed by any of the respective copyright owners. The RealAudio clips available on this page are presented for historical research and educational purposes only. The creators and maintainers of this web site take no responsibility for the information provided herein. All products and brand names mentioned are trademarks or registered trademarks of their respective owners. All characters and all related slogans and indicia are trademarks of the respective copyright owners. The use of such material falls under Fair use provisions.