Cool McCool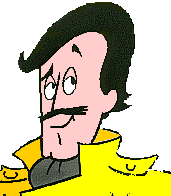 Cool McCool, from Batman creator Bob Kane, appeared on NBC-TV from September 10, 1966 through August 31, 1968. It reappeared from May 17 - August 30, 1969.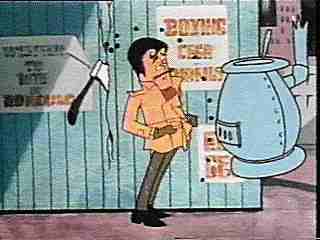 Like the live-action Get Smart in primetime, Cool McCool was an animated parody of secret agent James Bond for the Saturday morning crowd. The series featured the animated exploits of Cool McCool, a gadget-wielding, trench coat-clad, 007-type who fought against an array of bizarre villains. Unlike the eternally smooth James Bond, however, Cool's dashing looks belied his bumbling manner.

Cool's boss, Number One, dispensed orders without ever being seen on camera, an idea which predated Charlie's Angels by a decade. Borrowing from yet another literary source, Number One's secretary was referred to as Friday.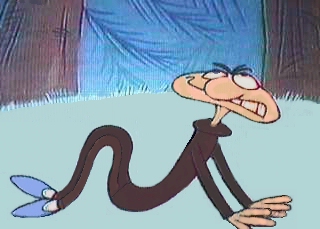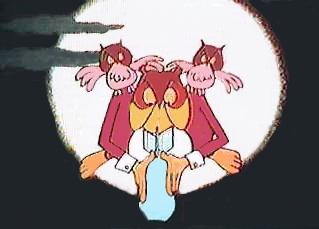 A recognizable predecessor to Inspector Gadget, Cool used an assortment of gadgets—including a mustache radio—to combat such foes as Greta Ghoul, the Rattler, Madcap, the Owl and the Pussycat, the Jack-in-the-Box and Hurricane Harry. But despite his ineptitude, Cool often earned his name. Driving around in the "Coolmobile," wearing an ascot, and routinely uttering the catch phrase, "Danger is my business," our hero occasionally rivaled even the Fonz in his level of coolness.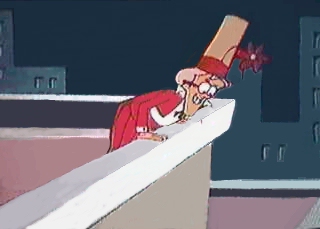 Another segment on the show featured Cool's dad, Harry McCool. The segment proved the apple doesn't fall far from the tree. Harry was a member of the inept Komedy Kops, a knock-off of the old-time Keystone Kops.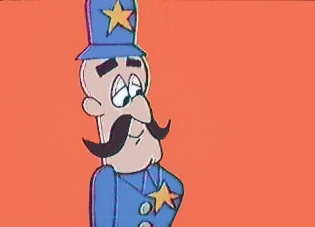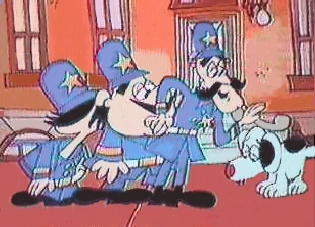 Produced by Al Brodax for King Features Syndicate Television.
VOICES:

Cool McCool: Bob McFadden
Harry McCool: Bob McFadden
Number One: Chuck McCann
Friday: Carol Corbett
Jack-in-the-Box: Chuck McCann
Madcap: Chuck McCann
Rattler: Chuck McCann
Hurricane Harry: Chuck McCann
Owl: Chuck McCann
EPISODES: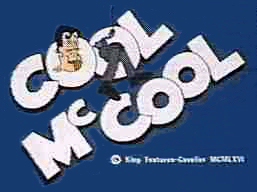 COOL McCOOL
"Big Blowout", "Fine Feathered Friends", "If That Hat Fits", "House That Jack Built", "The Odd Boxes Caper", "Garden of Evil", "Rocket Racket ", "Queen's Ransom", "Big Brainwash", "Shrinking the Slinker", "The Box Fox", "Bagging the Windbag", "Will the Real Coolmobile Please Stand Up?", "Owl on the Prowl", "Snifflin' Snoozen', Sneezin'", "How No Fowl Owl", "Caps and Robbers", "Romantic Rattler", "Jack in the Boxer", "Love is a Gas", "Who Stole My 32 Secret Agents?", "500 Pound Canary", "Fun and Games", "Mother Greta's Wrinkle Remover", "Two Fats and a Fink", "Rock-a-bye for Rattler", "Hi Jacker Jack", "The Wind Goddess", "Hot McHott", "A Growing Problem", "Oh, Say Can You Seed", "What Goes Up Must Come Down", "Birds of a Feather", "The Box Popper", "Owl's Well That Ends Well", "A Tree is a Tree", "Whistler's Mommy Case", "College of Crooks".
HARRY McCOOL
Phantom of the Opera House", "Horsehide and Go Seek", "Vanishing Shoehorns", "Pie in Your Eye", "Woodchopper", "Gym Dandy", "Big Top Cops", "The New Car", "Three Men on a House", "Fowl Play", "The Jet Set Yet", "McCool Jazz", "Dog Tired", "High Jokers", "Time Out", "Monkey Dizziness", "Green Dragon", "Lots of Balloony", "Goat Chasers", "In the Dough".
JANUARY 3, 2007
NAVARRE 'S BCI AND HEARST ENTERTAINMENT BRING BACK "COOL" WITH THE SUAVE SECRET AGENT

"COOL McCOOL"

3 DVD Set Available March 13th for $19.98

Los Angeles , CA – BCI Eclipse, a Navarre Corporation Company, and Hearst Entertainment announce the release of the classic King Features animated series "Cool McCool" from "Batman" creator Bob Kane. Under its Ink & Paint brand, BCI will release the 20 episode, three-DVD set on March 13th at a suggested retail price of $19.98. The set will include an abundance of unique special features including interviews, commentaries and episode introductions with legendary voice artist Chuck McCann. The announcement was made today by Jeff Hayne , Director of Acquisitions, BCI.

"With the popularity and success of the spy genre, we are confident that now is the perfect time to introduce Cool McCool, the James Bond of classic animation" said Hayne. "Additionally, we are thrilled to have Chuck McCann on board providing entertaining and insightful information about the history of the show."

This classic King Features animated series (seen on NBC-TV from 1966-1968) has Cool facing down some of the most heinous villains in animation history including Hurricane Harry, The Rattler, Jack-In-The-Box, The Owl, Dr. Madcap and Greta Ghoul. And Cool does it all on behalf of his company "Secret, Inc." and his boss Number One. This Collector's Edition set is hosted by the legendary performer Chuck McCann, who provides the majority of voices in "Cool McCool."

Special Features include:

Cool McCool Audio Commentaries:

Hosted by Wally Wingert and featuring Cool McCool voice actor Chuck McCann.

Interviews:

"McCann on McCool" Cool McCool voice actor Chuck McCann is interviewed by Wally Wingert. Chuck explains how he got involved in the show and how he created the wonderful voices for all of his characters.

"Chatting With Chuck"

Legendary performer Chuck McCann is highlighted in this salute to his prolific career in movies, television, commercials, animation, theater and music.

A Cool McCool Introduction for each Episode

by Cool McCool voice actor Chuck McCann.

"The

School

of

McCool

" Music Video: A new, original song by Wally Wingert comes to life "music video" style. With a special cameo appearance by Cool McCool voice artist Chuck McCann!

More From Ink & Paint Trailers

In addition to starring in numerous comedic and dramatic TV series and movies, Chuck McCann's extensive list of credits also includes voice work for the animated shows "G.I. Joe," "Fantastic Four," "Iron Man" and "DuckTales." Producing the special features, documentaries and most of the extra content is voice over actor Wally Wingert ("Family Guy", "Murphy Brown" and "The Martin Short Show").
Click on this link to visit Chuck McCann's website

Click below to hear the theme song, in RealAudio:
King Features Syndicate Television (NBC-TV) 1966

The TOON TRACKER sites are
created and maintained by Ron Kurer
Send comments to:
webmaster@toontracker.com
Updated May 18, 2007
TOON TRACKER © 1996, 2007

The Toon Tracker site is not endorsed by any of the respective copyright owners. The creators and maintainers of this web site take no responsibility for the information provided herein. All products and brand names mentioned are trademarks or registered trademarks of their respective owners. All characters and all related slogans and indicia are trademarks of the respective copyright owners. The use of such material falls under Fair use provisions.