---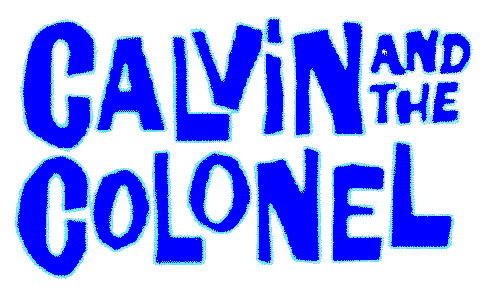 CALVIN AND THE COLONEL ran from October 3, 1961 through September 22, 1962. It was seen in primetime on ABC-TV, Tuesday nights at 8:30/7:30C opposite "Dobie Gillis" on CBS and "Alfred Hitchcock" on NBC. CALVIN AND THE COLONEL featured the exploits of two backwoods animals from the south who had taken up residence in a large northern city. The series was created, and the lead characters voiced, by Freeman Gosden and Charles Correll, who patterned the cartoon after their long-running "Amos 'n' Andy" radio and television series. Gosden and Correll, two white men, had created and played the parts of the two black leads in the radio version of "Amos 'n' Andy". They felt that, by using animals as their principal characters, they could avoid the touchy racial situation which "Amos 'n' Andy" had become in the early 1960's.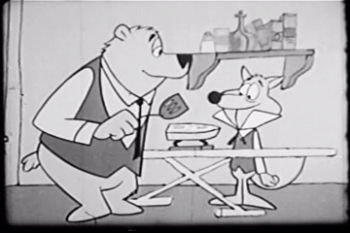 The half hour episodes of CALVIN AND THE COLONEL featured the comedy misadventures of Colonel Montgomery J. Klaxon, a shrewd and very foxy fox, and his pal, Calvin Burnside, a dim-witted, lovable, cigar-smoking bear. The other regulars in the series included Maggie Belle, the Colonel's wife, her sister Sue, and Oliver Wendell Clutch, a conniving lawyer who also happened to be a weasel. The series was produced for Kayro Productions by Bob Mosher and Joe Connelly, whose credits include the TV version of "Amos 'n' Andy", "Leave it to Beaver", and "The Munsters". The animation was by Creston Studios, who also animated the 1957 "Crusader Rabbit" cartoons for Shull Bonsell's TV Spots. This, and the limited animation, may explain why CALVIN AND THE COLONEL is often mistakenly credited to Jay Ward Productions.
---
See more Calvin and the Colonel Pictures at
The Toon Tracker Calvin and the Colonel Picture Page
---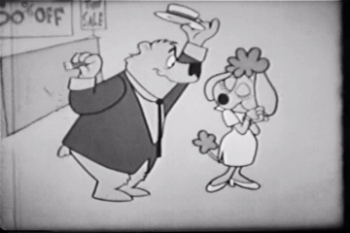 VOICES:
COLONEL MONTGOMERY KLAXON: FREEMAN GOSDEN

CALVIN BURNSIDE: CHARLES CORRELL

MAGGIE BELLE KLAXON: VIRGINIA GREGG

SISTER SUE: BEATRICE KAY

OLIVER WENDELL CLUTCH: PAUL FREES

GLADYS: GLORIA BLONDELL
MUSIC: GEORGE BRUNS
ANIMATION PRODUCED BY CRESTON STUDIOS
ANIMATION PRODUCERS: BOB GANON, SAM NICHOLSON,
GERALD RAY
ART DIRECTOR: NORM GOTTFREDSON
VISUAL ADAPTATIONS: LEE MISHKIN, ED LEVITT, DAVID HILL
LAYOUTS: ELLIE BOGARDUS, BOB GORE, BILL KOHN, AL HUBBARD
ANIMATION DIRECTORS: CHUCK McKIMSON, JOHN WALKER
SUPERVISING ANIMATORS: TOM McDONALD, FRED MADISON,
BEN WASHAM, JOHN SPAREY, BOB BEMILLER, VOLUS JONES,
JIM DAVIS,
HARVEY TOOMBS, C.L. HARTMAN
ANIMATORS: BOB PARTCH, ARCH LEAN, BOB MAXFIELD,
BARBARA WILLIAMS, EARL COMBS, CASEY ONAITUS,
PHIL ROMAN, BARNEY POSNER, MOREY GOLUB,
TOM McDONALD JR., FRANK ANDRINA
BACKGROUNDS: DAVE WEIDMAN, BILL BUTLER
PRODUCTION COORDINATOR: DAVE HOFFMAN
INK AND PAINT: MARTHA BUCKLEY
CAMERA: JULIAN E. RAYMOND
EDITING: NORM VIZENTS, CHUCK McCANN
SOUND EFFECTS: PHIL KAYE
AUDIO ENGINEER: ART BECKER
TELEPLAY BY JOE CONNELLY AND BOB MOSHER
RECORDING EXECUTIVE: CLIF HOWELL
PRODUCTION EXECUTIVE: AL AMATUZIO
EXECUTIVE PRODUCERS: JOE CONNELLY AND BOB MOSHER
A KAYRO PRODUCTION

---
EPISODES
Back to Nashville

Calvin Gets Psychoanalyzed

Calvin's Glamour Girl

Calvin's Tax Problem

The Carnappers

Cloakroom

Colonel Outfoxes Himself

Colonel Traps A Thief

The Colonel's Old Flame

The Costume Ball

Jealousy

Jim Dandy Cleaners

Magazine Romance

Money In The Closet

Nephew Newton's Fortune

The Polka Dot Bandit

The Ring Reward

Sister Sue And The Police Captain

Sycamore Lodge

TV Job

Thanksgiving Dinner

Wheeling And Dealing

The Winning Number

Woman's Picnic

The Wrecking Crew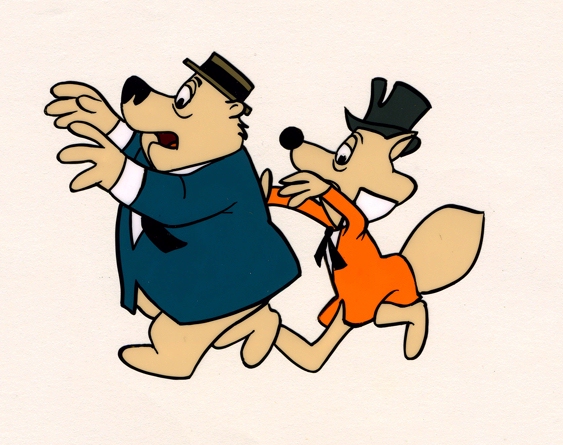 ---
CALVIN AND THE COLONEL was not the first time Gosden and Correll attempted to do an animated version of "Amos 'n' Andy". In 1932 they starred in a live action "Amos 'n' Andy" motion picture, "Check and Double Check" for RKO Pictures. The movie proved successful enough to warrant RKO's further interest in the property. In an attempt to work around the problems faced with doing the characters in black-face, they approached Amadee J. Van Beuren, the head of Van Beuren Studios (RKO's animation unit), about the possibility of doing an animated series. Van Beuren was more than happy to add the popular duo to the small studios roster of stars. Veteran director George Stallings did two animated shorts, "The Rasslin' Match" and "Lion Tamer", which were released in early 1934. Unfortunately, the series never caught on with moviegoers and was dropped from the studios production schedule.
---
Click here for more info on AMOS 'N' ANDY
---
Return to the TOON TRACKER Home Page
UPDATED AUGUST 5, 2007
---
This WEB site created and maintained by Ron Kurer. Send comments to:
SINCE SEPTEMBER 21, 1996.
TOON TRACKER © 1996, 2007