THE BULLWINKLE SHOW
featuring the Bullwinkle Puppet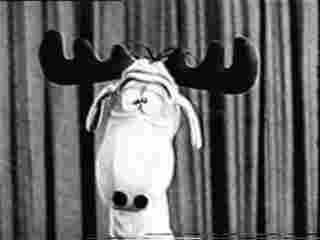 ---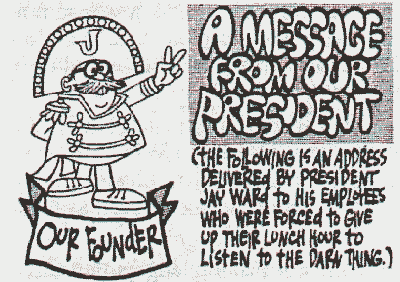 The Bullwinkle Show was a spin-off of Jay Ward's successful Rocky and his Friends series. The Rocky and Bullwinkle characters had been created in the late 1940's by Ward's former partner, Alex Anderson, as part of The Frostbite Falls Revue, a series proposal which didn't sell. The series was to be the adventures of a group of animals running a TV station in the North Woods. The cast (seen in the background of this web page) included Oski Bear, the station's cameraman; Blackstone Crow, the director; Sylvester Fox, an egotistical actor ; Flora Fauna, the leading lady; and Rocky the flying squirrel and Bullwinkle, a French-Canadian Moose.
Ward loved the moose and squirrel characters, and years later decided to use them in a new series. Rocky and his Friends premiered on ABC-TV on November 19, 1959. On September 24, 1961 it was renamed The Bullwinkle Show and moved to NBC-TV in prime time. In addition to airing the shows in color, NBC devised a gimmick where the cartoons would be introduced by a Bullwinkle puppet, voiced by Bill Scott. The puppet would make fun of current events and celebrities, including Walt Disney, who happened to follow The Bullwinkle Show on NBC Sunday nights. You can now hear a rare closing to The Bullwinkle Show in RealAudio, with Bullwinkle mentioning Mr. Disney. Just click on the link below:



Bullwinkle/Disney
Jay Ward Productions/Producers Associates for Television (NBC-TV) 1961
Or Down-load To Play As A Local File

On one occasion, the puppet told the kiddies in the audience to pull the knobs off their TV sets. "In that way, we'll be sure to be with you next week." NBC, after hearing about an estimated twenty thousand tots who complied, was furious. The next week, Bullwinkle asked them to put the knobs back on with glue, "and make it stick !" Shortly after, the puppet was dropped from the series.
Bill Scott, who had worked at UPA, was the co-producer and head writer of the Jay Ward cartoons. Scott, who was born August 2, 1920, in Philadelphia, Pennsylvania, was also the voices behind Bullwinkle, Dudley Do-Right, Fillmore, Mr. Peabody, George of the Jungle, Super Chicken, Tom Slick, Cloyd, and many other supporting characters. He was a multi-talented man who later supplied voices for Disney's Gummi Bears and Wuzzles series, Hanna-Barbera's Velveteen Rabbit special for ABC-TV, and Buzzco's Wacky Wallwalkers special for NBC-TV. He passed away of a heart attack on November 29, 1985, in Tujunga, California.
In addition to Scott, there were many other talented people working at the Ward studio. UPA veterans Bill Hurtz, Ted Parmalee, Lew Keller and Pete Burness all worked there. Other vocal talent included June Foray, Hans Conried, William Conrad, Edward Everett Horton, Paul Frees, Charles Ruggles, and Walter Tetley. Up-and-coming young talent at the studio included Chris Hayward and Allen Burns.
Jim Burness, the grandson of animation director Pete Burness, shared the following Jay Ward story with me:
"...My grandfather was diagnosed with pancreatic cancer in 1969. He died six weeks after it was found. At the time he was working for Jay Ward, one of the most amazing guys on the planet. To give you an idea of Jay's character, he kept my grandfather on the payroll as a full employee the entire time he was sick until the day he died. I was lucky enough to meet the guy a few years before he passed away and I've always thought that a Jay Ward biography, focusing a bit more on the man than the work, would be really interesting, such as the time he had a wooden cutout of himself take his place in the reception line at his daughter's wedding with a tape looping "Hi, I'm Jay Ward. Thanks for coming."
Jay Ward was born September 20, 1920, in San Francisco, California, and died of kidney cancer on October 12, 1989, in Hollywood, California.
---
Michael Francis wrote to me recently, and attached a photo of an interesting curiosity:
I recently purchased these two vinyl head Rocky & Bullwinkle dolls from the 60's. The Rocky doll is marked c 1960 PAT WARD PROD while the Bullwinkle doll is marked c 1961 TERRY TOONS. How is this possible? Terry Toons never had the rights to Bullwinkle , did they? Is it possible that Terrytoons had a moose character that resembled Bullwinkle this closely? Is it possible that someone has glued the "B" onto the front of a Bullwinkle look-alike doll?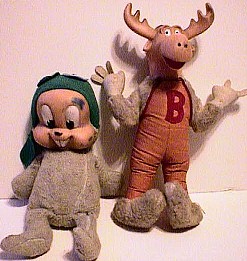 I replied that, while I have never seen these dolls before, frequently a manufacturer will make a mistake with licensed characters and display the wrong copyright notice. I have a Bozo the Clown book from the 1960's which states that it is © Hanna-Barbera Productions, when in fact it should have read Larry Harmon Pictures.
If anyone has any further knowledge of these dolls, please e-mail me or Mr. Francis.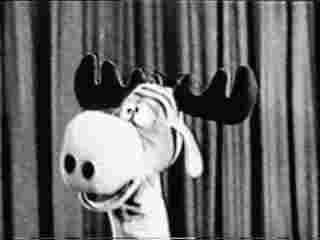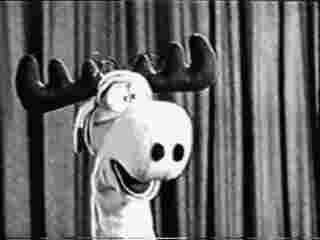 Click here for the Rocky and Bullwinkle Episode Guide
---
HOKEY SMOKE!
IT'S ROCKY & BULLWINKLE & FRIENDSÔ SEASON 2, AVAILABLE ON DVD FOR THE FIRST TIME EVER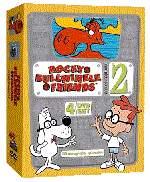 Order the second season DVD from Amazon.com
Digitally Remastered DVD Box Set Includes Complete Season 2
In Original Broadcast Order—52 Half Hour Shows For $39.98!
Plus Moosecalls: The Best of Bullwinkle Sings
Frostbite Falls, MN—On August 31, Bullwinkle Studios (a joint venture between Classic Media and Jay Ward Productions, Inc.) will release Rocky & Bullwinkle & Friends Season 2 on DVD. One of the most original and groundbreaking shows of all time, Rocky & Bullwinkle & Friends introduced generations of fans to the genius of producer Jay Ward and has influenced every television cartoon series since. Heralded by TV Guide as one of the best television shows of all time, this groundbreaking satire is as hysterical as ever and as fresh as the day it aired.
Starring a good natured flying squirrel and his wise-cracking moose partner, Rocky & Bullwinkle & Friends debuted in 1959 and instantly won the hearts of audiences and critics alike. The complete Season 2 comes in original broadcast order: 52 half-hour shows starring not only the dynamic moose and squirrel, but also those dastardly no-goodniks Boris Badenov and Natasha Fatale, dog genius Mr. Peabody and his pet boy Sherman, the fearless Dudley Do-Right of the Mounties and, of course, the incredible Fractured Fairytales.
"I must say I'm very excited about Season 2 coming to DVD," sez Rocky
"Well, then go ahead" Bullwinkle replies.
"What? Okay, I'm excited!"
"And I'm Bullwinkle!"
"The release of the first season on DVD was such an amazing success that we are happy to give the show's millions of fans even more Rocky and Bullwinkle," says Tiffany Ward, daughter of the late Jay Ward. "The release of Season 2 is a testament to my father's incredible gift for comedy and the enduring popularity of his characters."
A Lotta Extra Bull, Or, DVD Bonus Features
·

Moosecalls: The Best of Bullwinkle Sings!
And now for the Obligatory Legal Mumbo-Jumbo...
Bullwinkle Studios is a joint venture between Classic Media, the New York–based family entertainment company, and Jay Ward Productions, Inc., producers of Rocky & Bullwinkle, George of the Jungle, Tom Slick, and Superchicken, among others.
Classic Media manages some of the world's most recognizable family properties across all media including feature film, television, home video, and consumer products. The company's extensive library features a diverse collection of popular animated and live action characters such as Casper the Friendly Ghost, Mr. Magoo, Richie Rich, Rudolph the Red-Nosed Reindeer, The Lone Ranger, Lassie, Peter Cottontail, Underdog, Little Lulu, pat the bunny, and Lambchop.

Order the first season DVD from Amazon.com
"Rocky" and "Bullwinkle" and related characters, character names, images, and other indicia TM & (c) 2004 Ward Productions, Inc.
---


Above are two examples of the Bullwinkle Comic Strip from the 1960's
The Boris strip is courtesy of Dan McCormick
---
Be Among the First to Own
a "Rocky & Bullwinkle & Friends" Blanket!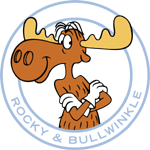 Brackney Hills Knitting's first designs -
Boris & Natasha and Mr. Peabody & Sherman -
are now available for purchase.
Click Here for their product page.
---
Hear the theme to the prime-time Bullwinkle show,
including ultra-rare commentary from the Bullwinkle puppet
in RealAudio from Toon Tracker.
Just click on the link below to hear it:


The Bullwinkle Show (with puppet intro)
Jay Ward Productions/Producers Associates for Television (NBC-TV) 1961
Or Down-load To Play As A Local File

NEW - See the opening to The Bullwinkle Show (with the puppet) in RealVideo!!


The Bullwinkle Show (with Bullwinkle puppet)
Jay Ward Productions (NBC-TV) 1960

NEW - See the opening to Jay Ward's Fractured Flickers in RealVideo!!


Fractured Flickers
Jay Ward Productions (syndicated) 1963

NEW - See a Cheerios commercial with Bullwinkle in RealVideo!!


Cheerios commercial with Bullwinkle
Jay Ward Productions/General Foods - 1961

Hear the theme to Rocky and His Friends and
several Jay Ward produced General Mills commercials
in RealAudio from Toon Tracker.
Just click on the links below to hear them:


Rocky and His Friends
Jay Ward Productions/Producers Associates for Television (ABC-TV) 1959
Or Down-load To Play As A Local File



Bullwinkle's Corner/Cheerios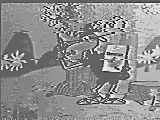 Or Down-load To Play As A Local File



Bullwinkle's Corner with Dudley Do-Right/Cheerios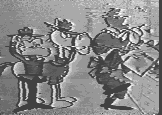 Or Down-load To Play As A Local File



Bullwinkle/Cocoa Puffs

Or Down-load To Play As A Local File



Bullwinkle/Big G Bicycle Race

Or Down-load To Play As A Local File



Bullwinkle/Trix Cereal

Or Down-load To Play As A Local File


Rocky, Robert De Niro, Jason Alexander, Rene Russo and Bullwinkle

Universal Pictures released "The Adventures of Rocky & Bullwinkle" movie in June, 2000.
In the movie, Boris (Jason Alexander) and Natasha (Rene Russo) break a code which enables them to break out of the two-dimensional cartoon world into the real world. Under the direction of Fearless Leader (Robert De Niro), the two Pottsylvanian attempt to turn the citizens of America into a nation of zombies using a fiendish device that produces nothing but Really Bad Television. Bullwinkle (voiced by Keith Scott) and Rocky (voiced by June Foray) attempt to stop the Pottsylvanian archvillains, assisted by FBI agent Karen Sympathy (Piper Perabo). Cameos by Janeane Garofalo, John Goodman, Don Novello, Jonathan Winters, Whoopi Goldberg and Billy Crystal. The movie is narrated by Keith Scott, doing a very passable imitation of the late William Conrad.

Click the picture above to see the trailer from
the Adventures of Rocky and Bullwinkle, in RealVideo
Australian Keith Scott, the man behind the narration and Bullwinkle's voice in the movie, met his childhood heroes, Jay Ward and Bill Scott (no relation), while still in his teens. Through them, he has had access to virtually every key player in the Jay Ward empire. He has written a book, "THE MOOSE THAT ROARED", that covers the entire history of the Jay Ward Studio, from Crusader Rabbit to Cap'n Crunch. This hard cover book, written over many years, is 442 pages, illustrated, and full of information and details. In-depth information on Gamma Studios, P.A.T., DFS and more. It's a great book, and a highly recommended addition to any animation reference library.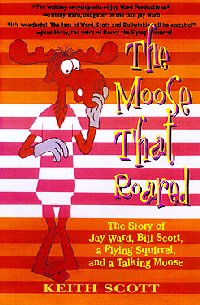 Order the book from Amazon.com by clicking the picture above.

Here are some Web pages devoted to Jay Ward:
Toon Tracker's Crusader Rabbit Page
Toon Tracker's Hoppity Hooper Page
Dave's Un-Official Super Chicken Home Page
The Adventures of Rocky and Bullwinkle movie
About Jay Ward Productions
Hokey Smokes! Rocky & Bullwinkle
The Rocky & Bullwinkle Horror Picture Show
Rocky and Bullwinkle Insanity
A Tribute to Jay Ward
The Moosylvania Page
Pazasaz Entertainment Network: Rocky & Bullwinkle
The Walter Tetley Web Page
KeithScott.com
DawsButler.com
Rocky and Bullwinkle Statue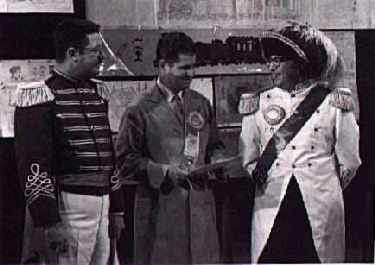 Pictured left to right, Bill Scott, an unidentified local kids show host, Jay Ward
---
Sign the Toon Tracker Guest Book-
Sign The Toon Tracker Guestbook
View The Current Toon Tracker Guestbook
---
Back To: Toon Tracker Home Page
---
Bullwinkle and all related characters are ©Jay Ward Productions, Inc. The Toon Tracker sites are not endorsed by any of the respective copyright owners. The creators and maintainers of this web site take no responsibility for the information provided herein. All products and brand names mentioned are trademarks or registered trademarks of their respective owners. All characters and all related slogans and indicia are trademarks of the respective copyright owners. The use of such material falls under Fair use provisions.
---
This WEB site created and maintained by Ron Kurer. Send comments to:
webmaster@toontracker.com
UPDATED JUNE 2, 2007

ORIGINATED JANUARY 3, 1997.
TOON TRACKER © 1996, 2007