BUCKY AND PEPITO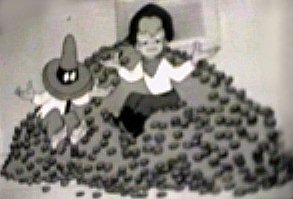 Bucky and Pepito, "such a funny, funny pair" (as noted in the theme song), was produced by Sam Singer in 1959 for Samsing Creations/Trans-Artists Productions.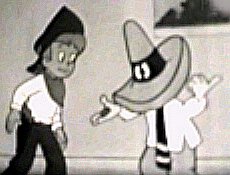 The voices were done by Dallas McKinnon. This cheaply done series (I've heard that it took only one week to complete an installment) was about Bucky, a young red-headed boy wearing a cowboy hat, and his buddy Pepito, a Mexican stereotype who is described in the cartoon as being "oh so lazy, and so very, very slow".  The cartoon took place in the American Southwest, and while the animation was crudely done the background landscapes were lavish in comparison. Even though it is crude, the animation appears to be as good, if not better, than many of it's contemporary counterparts.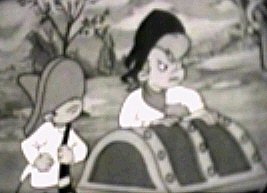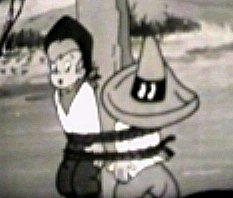 Sam Singer, the producer of Bucky and Pepito, The Adventures of Pow Wow, Courageous Cat and Minute Mouse, as well as the first Sinbad Jr. cartoons,  passed away on January 25, 2001, at the age of 88.
Incomplete Episode Guide
(If anyone can add to this list, please E-Mail me)
| | | |
| --- | --- | --- |
| The Magic Penny | Dog Catcher Daze | Texas Jack and the Bean Patch |
| Time Machine | Jumpin' Frijoles | The Pancake Taking Cure |
| Hi-Flyin' Goat | The Howlin' Coyote | Flyin' High |
| No Luck Duck | Pet Duck | A Kingfishy Tale |
| Watch Dog For Hire | The Wandering Elephant | Mambo Rhythm |
| Out Of This World | Crazy Car Capers | Flippin' Over Flap Jacks |
| Cal's Mis' Steak | Rustlin' Coyote | Cal Coyote Flies Again |
| Hunters Dilemma | No Luck Duck | The Lion Tamer |
| Vexin' Texan | Hot Diggity Dog | Sailor's Story |
| Fresh Fish | Cat Napping Around | Hot Chicken |
| Magic Clock | The Lone Pine Tree | Fastest Bird Alive |
| Hot Lemonade | Plain and Fancy Hoppers | Pony Pal |
| Sheepish Coyote | Unlucky Horseshoes | The Ol' Cannon |

Click on this link to hear the Bucky and Pepito theme, in RealAudio.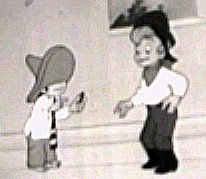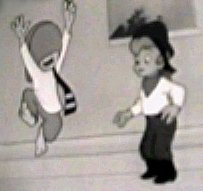 Click on this link to see a full-length, five minute, Bucky and Pepito cartoon, "The Time Machine", in RealVideo.

Watch a full-color Bucky and Pepito cartoon, The Coyote Catcher, that I posted on YouTube.
Below are full-color screen captures from BUCKY AND PEPITO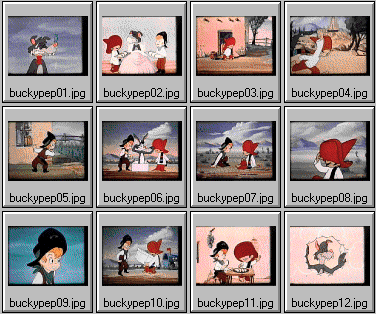 Click on any of the images above to see it larger

Return to The Toon Tracker Home Page 
This WEB site created and maintained by Ron Kurer.
Send comments to:
webmaster@toontracker.com
Updated October 19, 2007.
TOON TRACKER ©1999 - 2007

The pictures and RealAudio clips available on this page are presented for historical research and educational purposes only. The Toon Tracker sites are not endorsed by any of the respective copyright owners. The creators and maintainers of this web site take no responsibility for the information provided herein. All products and brand names mentioned are trademarks or registered trademarks of their respective owners. All characters and all related slogans and indicia are trademarks of the respective copyright owners. The use of such material falls under Fair use provisions.




This Page Originated September 17, 1999