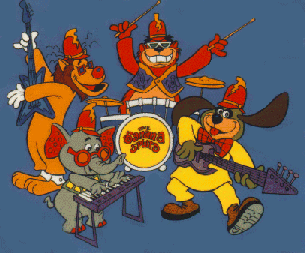 Toon Tracker Presents
The Songs Of Hanna-Barbera's
The Banana Splits In RealAudio.


Hear the songs from Hanna-Barbera's
classic 1968 Banana Splits Adventure Hour.
These songs were encoded
from 30 year old vinyl records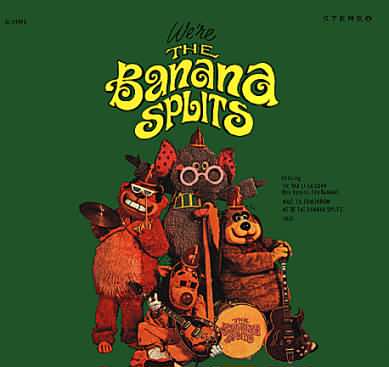 Please excuse any scratches or audio imperfections.

These selections require RealPlayer. They utilize HTTP Pseudo-streaming for real-time playback. This pseudo-streaming feature enables me to post more video files than in the wav or au formats, due to RealAudio's unique compression capability.
Click on the link above to get your FREE RealPlayer now.

***NOTE***
If you encounter pauses in playback due to re-buffering, I've added the option of down-loading the file for local play. This takes a little longer than real-time playback, but it provides much easier listening ability. As soon as it's down-loaded to your system it should start the RealPlayer and begin playing uninterrupted, without the pauses caused by re-buffering.

Click HERE for instructions on downloading Toon Tracker RealAudio files. You'll need to use the BACK button on your browser to return to this page.



The Tra La La Song
(One Banana, Two Banana)
Ritchie Adams-Mark Barkan
Or Down-load



Wait Til Tomorrow
Ritchie Adams-Mark Barkan
Or Down-load



You're The Lovin' End
Al Kooper-Irwin Levine
Or Down-load



In New Orleans
Billy Barberis-Bobby Ronga-Aaron Schroeder
Or Down-load



Two-Ton Tessie
Aaron Schroeder-Gene Pitney
Or Down-load



Don't Go Away-Go-Go Girl
Jimmy Radcliffe-Buddy Scott
Or Down-load



I Enjoy Being A Boy
(In Love With You)
Joey Levine-Marc Bellack
Or Down-load



The Beautiful Calliopa
N. B. Winkless, Jr.-Hoyt Curtin
Or Down-load



Let Me Remember You Smiling
Al Kooper-Bob Brass-Irwin Levine
Or Down-load



We're The Banana Splits
Tony Powers-Ritchie Adams
Or Down-load



I'm Gonna Find A Cave
Buddy Scott-Jimmy Radcliffe
Or Down-load



This Spot
Jay Fishman-Don Lauren
Or Down-load



Doin' The Banana Split
Barry White
Or Down-load



Toy Piano Melody
Roy Alfred (Instrumental)
Or Down-load



Soul
Jimmy Radcliffe-Carl Spencer
Or Down-load



Adam Had 'Em
Or Down-load



It's a Good Day For a Parade
Or Down-load



Very First Kid On My Block
Or Down-load

Return to The Toon Tracker Home Page

This WEB site created and maintained by Ron Kurer.
Send comments to:
webmaster@toontracker.com
UPDATED November 3, 2001.
TOON TRACKER © 1996 - 2006

The RealAudio clips available on this page are presented for historical research and educational purposes only. The Toon Tracker sites are not endorsed by any of the respective copyright owners. The creators and maintainers of this web site take no responsibility for the information provided herein. All products and brand names mentioned are trademarks or registered trademarks of their respective owners. All characters and all related slogans and indicia are trademarks of the respective copyright owners. The use of such material falls under Fair use provisions.

This Site Originated July 12,1998