THE BARKLEYS
(DePatie-Freleng/NBC-TV 9/9/72 - 9/1/73)

Inspired by the classic 70's sitcom All in the Family (a show that questioned everything about the sitcom genre, turning "safe" television on its ear), The Barkleys featured a family of dogs led by Arnie Barkley, an opinionated sort who didn't mind sharing his feelings with anyone and everyone.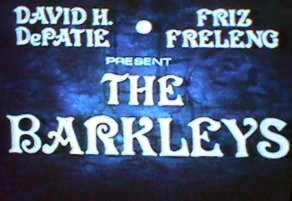 These opinions usually clashed with those of Arnie's wife Agnes and their children Terri, Chester, and Roger. Like their prime time contemporaries, the Barkleys touched on such issues as women's liberation, topics that had rarely been broached in prime time, let alone Saturday mornings.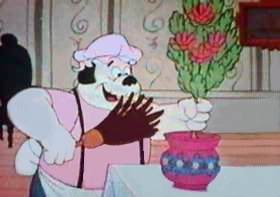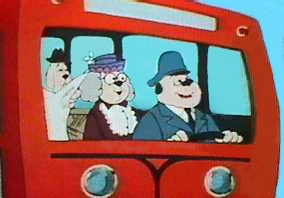 Sadly, the show did not get much support from adults or children, and only aired for one season.
Voices:
Click on an image to see it larger


Chester Barkley - Steve Lewis.


Roger Barkley - Gene Andrusco.


Terri Barkley - Julie McWhirter.
Other Voices: Michael Bell, Don Messick, Bob Frank, Bob Holt, Frank Welker
Created For Television By: David H. DePatie, Friz Freleng, in Association With Joe Ruby & Ken Spears

Writers: Larry Rhine, Woody Kling, Dennis Marks, David Evans

Animation Director: David Detiege

Storyboard Directors: Gerry Chiniquy, Art Leonardi, Cullen Houghtaling, Paul Sommer

Layout Supervision And Design: Robert Taylor

Layout: Cullen Houghtaling, Owen Fitzgerald, Richard Ung, Frank M. Gonzales, Nino Carbe, Wes Herschensohn

Animation: Don Williams, Ken Muse, Warren Batchelder, John Gibbs, Bob Matz, Reuben Timmins, Manny Gould, Norm McCabe, Jim Davis, Bob Richardson, Bob Bransford, Bob Bemiller

Background Supervised By: Richard H. Thomas, Mary O'Loughlin

Film Editing Supervised By: Lee Gunther

Film Editors: Joe Siracusa, Roger Donley, Allan R. Potter, Rick Steward

Title Design By: Art Leonardi

Music: Doug Goodwin

Music Score Conducted By: Eric Rogers

Music Recording Engineer: Eric A. Tomlinson

Executive In Charge Of Production: Stan Paperny

Production Supervision: Harry Love

Camera: Ray Lee, Larry Hogan, John Burton Jr.

Production Mixer: Steve Orr

Sound: Producers' Sound Service

Associate Producers: Joe Ruby, Ken Spears

Produced By David H. DePatie and Friz Freleng
EPISODES:

"The Match Breaker", "Finders Weepers", "Lib And Let Lib", "Half Pint Hero", "No Place For A Lady", "For The Love Of Money", "Keeping Up With The Beagles", "Play No Favorites", "Law And Misorder", "The Great Disk Jockey", "Barkley Beware" and "Arnie Come Clean", "The Talent Agency Caper".



This WEB site created and maintained by Ron Kurer.
Send comments to:
webmaster@toontracker.com
TOON TRACKER © 2003

The Toon Tracker site is not endorsed by any of the respective copyright owners. The creators and maintainers of this web site take no responsibility for the information provided herein. All products and brand names mentioned are trademarks or registered trademarks of their respective owners. All characters and all related slogans and indicia are trademarks of the respective copyright owners. The use of such material falls under Fair use provisions.