---
NAVARRE'S BCI RELEASES 33 DIGITALLY REMASTERED EPISODES OF
"She-Ra: Princess of Power®"
SEASON ONE, VOLUME TWO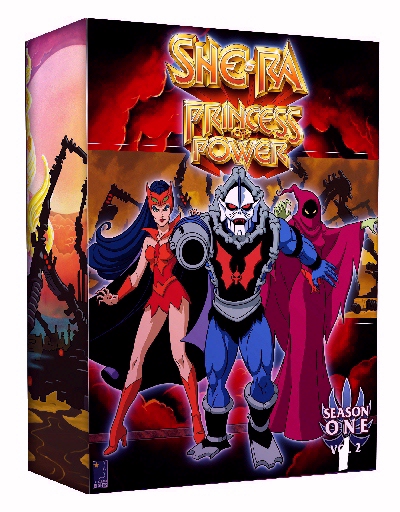 Six DVD Set in a Six-Panel DigiPak Became Available April 3rd, 2007 for $49.98
Los Angeles, CA – Animation's greatest adventure heroine continues her fight for freedom as BCI Eclipse, a Navarre Corporation Company, and leading UK media company and underlying rights owner, Entertainment Rights Plc ("ER"), released the next installment of "She-Ra: Princess of Power®." Season One, Volume Two became available April 3rd, 2007 at a suggested retail price of $49.98. The six DVD pack was released under BCI's Ink & Paint brand and includes 33 digitally remastered episodes from the first season of the classic '80s animated series.
"She-Ra: Princess of Power®" Season One, Volume Two, is the second release in a three-volume set that will include all 93 original episodes of the popular animated saga. All three volumes combined form a unique She-Ra® "spine art mural."
The six DVDs include the next 33 episodes of the series, and also feature:
The documentary "The Stories of She-Ra

®

, Part 2"

Commentary tracks for episodes "Intro the Dark Dimension" with writer J. Michael Straczynski.

Hosted by Andy Mangels

Storyboard-to-episode comparison for episode #45 "Huntara"

Art cards by acclaimed artists Mike Wieringo and Jock

He-Man

®

and She-Ra

®

Cartography (maps of Eternia,

Etheria

Brightmoon

Kingdom

and Lighthope area layout)

Image Gallery (model sheets for "The Heroes")

50 Character Profiles

"Loo-Kee's Fun Facts" and trivia

Easter Eggs

DVD-ROM features (including scripts model sheets)

Spanish language audio tracks
Producing the special features, documentaries and most of the extra content was entertainment writer Andy Mangels, a best-selling novelist, and author of Animation on DVD - The Ultimate Guide. Consulting with BCI on the project and providing extra content was Val Staples, the owner of www.he-man.org, the internet's largest portal for the He-Man and the Masters of the Universe® fan community, the owner of MVCreations graphic design company, and the publisher of the recent Masters of the Universe comic.
"She-Ra: Princess of Power®" first aired on television in 1985, as a female-directed spin-off of the popular "He-Man and the Masters of the Universe®," which was into its second season.
---
Return to Toons on DVD page