---
NAVARRE CORPORATION'S BCI ANNOUNCES
THE HIT SCI-FI 70'S SERIES STARRING STAR TREK'S JAMES DOOHAN
"JASON OF STAR COMMAND"
The Complete Series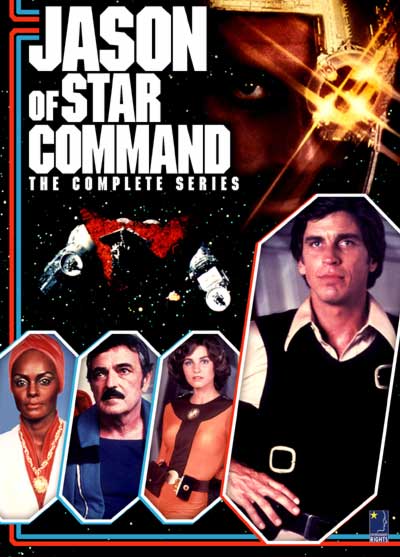 3 DVD Set Available May 8th For $29.98
Los Angeles, CA - BCI Eclipse, a Navarre Corporation Company, and the UK's leading global media company and underlying rights owner, Entertainment Rights Plc ("ER") announce the release of the live action series "Jason of Star Command." The complete series will be available on DVD for the first time and will be released on May 8th at a suggested retail price of $29.98. The 3 disc, 28 episode set is highlighted by a series of special features including a brand new documentary and a special effects commentary track.
"The anticipation of this long awaited release has been nothing short of spectacular" said Jeff Hayne, Director of Acquisitions, BCI. "JASON OF STAR COMMAND holds a place in history as one of the most elaborate and special effects-heavy Saturday morning TV shows ever created, and both its cast and visual effects crews had worked on Star Trek and Star Wars in the past, and numerous famous genre films since then. Fans will be especially pleased with the terrific DVD set BCI has put together, which is loaded with stellar special features."
The show starred notable actors James Doohan (Star Trek), Sid Haig (Kill Bill Vol. 2, The Devil's Rejects) and Tamara Dobson (Cleopatra Jones).
Working from within a secretive section of Space Academy, a daring soldier of fortune named Jason joins with his friends to combat the sinister forces that conspire to dominate the stars. Jason is aided on his missions by Commanders Carnavin and Stone, computer expert Nicole, strong alien Samantha, eccentric scientist Dr. E.J. Parsafoot, and two robots, Peepo and the portable W1K1. Together they face the evil machinations of Dragos -- the self-proclaimed "Master of the Cosmos" -- and his alien minions aboard the Dragonship.
JASON OF STAR COMMAND was a hit when it aired on Saturday mornings, beginning in 1978 on CBS. The most expensive children's show on television, the series utilized sets and props from its predecessor, SPACE ACADEMY, and featured veterans of Star Trek among its cast, plus special effects personnel who had created the visuals of Star Wars! With its action-oriented serialized plots and a memorable space-age villain in Dragos, JASON OF STAR COMMAND was a hit for two seasons, and entertained audiences worldwide in syndication thereafter.
Special Features include:
The all-new half-hour documentary, "The Adventures of Jason of Star Command," featuring interviews with the producer, stars, and visual effects artists
Two commentary tracks for season one episodes "Attack of the Dragonship" and "The Disappearing Man" with executive producer Lou Scheimer, and actors Craig Littler and John Berwick. Hosted by Andy Mangels
Special effects commentary track for season two episode "Beyond the Stars!" with visual effects supervisor Chuck Comisky, stop motion animator Jim Aupperle, and live action creature effects artist John Carl Beuchler. Hosted by Andy Mangels
Jason of Star Command - special effects demo reel
Extensive gallery of promotional photos
Extensive gallery of behind the scenes photos
Gallery of cast & crew reunion photos
Art gallery style guide for proposed "Jason of Star Command" animated series
Booklet with episode guide and trivia
DVD-ROM material: scripts
Easter eggs
More from Ink & Paint
Producing the special features, documentaries and all of the extra content is entertainment writer Andy Mangels, a best-selling novelist, and author of Animation on DVD—The Ultimate Guide.

---
Return to Toons on DVD page