---
NAVARRE'S BCI RELEASES
THE LAST 32 EPISODES OF THE CLASSIC ANIMATED SERIES
"DEFENDERS OF THE EARTH"
Volume Two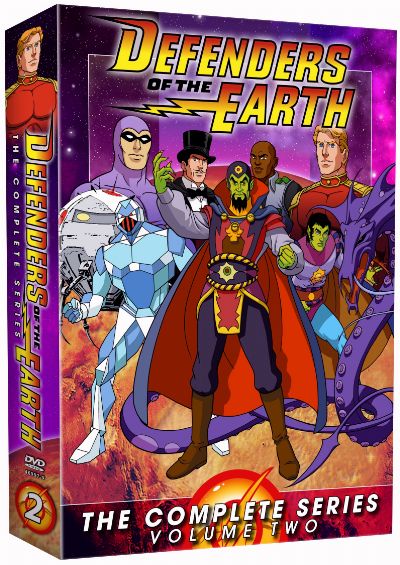 Five-Disc Set Released on April 3rd, 2007 For $34.98

Los Angeles , CA – Experience the climactic conclusion of the iconic "Defenders of the Earth," the animated series originally created by Marvel Productions. BCI Eclipse, A Navarre Corporation Company, and Hearst Entertainment, proudly released "Defenders of the Earth: Volume Two," on available April 3rd, 2007 at a suggested retail price of $34.98. The five-disc set featuring the last 32 episodes of the series was released under BCI's Ink & Paint brand.

"Defenders of the Earth" features Flash Gordon, who was created for comic strips in 1934 by Alex Raymond. Soon launched into Hollywood and beyond, Flash Gordon became one of the most popular and well-known space heroes ever created. The Phantom debuted in 1936 from creator Lee Falk, and the purple-clad "Ghost Who Walks" has been published worldwide ever since, as well as starring in feature films and animation. Mandrake the Magician (with sidekick Lothar) debuted in 1934, also the creation of Lee Falk, and his suave adventures were translated into film, radio, and a stage musical. When the quartet of heroes was united in the 1986 series by Marvel Productions — the creative minds behind Spider-Man, the Hulk, and X-Men — the result was "Defenders of the Earth." Over the course of 65 syndicated episodes, the series led to a 1987 comic book adaptation published by Marvel, a line of books, and a popular toy line from Galoob.

An abundance of special features include:
Interviews with the creators including Bryce Malek, David Wise and Michael Swanigan

Full episode audio commentary track for episode #41 "Return of the Sky Band" with supervising producer David J. Corbett, story editor Bryce Malek, voice actors Loren Lester and Peter Mark Richman, writer David Wise and line producer Bill Hutten.

Hosted by Andy Mangels

Bonus movie:

Defenders of the Earth 90 minute feature "The Story Begins"

Bonus episode:

Flash Gordon episode #1 "A Planet in Peril"

Detailed character profiles

Original model sheet gallery

Two exclusive collectible 4x6 "Defenders of the Earth" art cards by acclaimed comic book artists Mike McKone and Stephen Sadowski

DVD-ROM Features –scripts and storyboards (PDF format, PC/Mac readable)

Episode guide booklet with trivia and fun facts
Producing the special features, documentaries and most of the extra content was entertainment writer Andy Mangels, a best-selling novelist, and author of Animation on DVD—The Ultimate Guide.
---
Return to Toons on DVD page