---
NAVARRE'S BCI AND HEARST ENTERTAINMENT BRING BACK
"COOL" WITH THE SUAVE SECRET AGENT
"COOL McCOOL"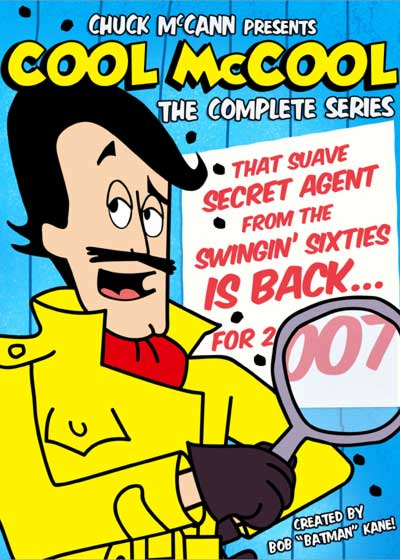 3 DVD Set Available for $19.98
Los Angeles , CA – BCI Eclipse, a Navarre Corporation Company, and Hearst Entertainment announce the release of the classic King Features animated series "Cool McCool" from "Batman" creator Bob Kane. Under its Ink & Paint brand, BCI released the 20 episode, three-DVD set on March 13th, 2007 at a suggested retail price of $19.98. The set includes an abundance of unique special features including interviews, commentaries and episode introductions with legendary voice artist Chuck McCann. Here is the announcement from Jeff Hayne , Director of Acquisitions, BCI:
"With the popularity and success of the spy genre, we are confident that now is the perfect time to introduce Cool McCool, the James Bond of classic animation" said Hayne. "Additionally, we are thrilled to have Chuck McCann on board providing entertaining and insightful information about the history of the show."
This classic King Features animated series (seen on NBC-TV from 1966-1968) has Cool facing down some of the most heinous villains in animation history including Hurricane Harry, The Rattler, Jack-In-The-Box, The Owl, Dr. Madcap and Greta Ghoul. And Cool does it all on behalf of his company "Secret, Inc." and his boss Number One. This Collector's Edition set is hosted by the legendary performer Chuck McCann, who provides the majority of voices in "Cool McCool."
Special Features include:
Cool McCool Audio Commentaries: Hosted by Wally Wingert and featuring Cool McCool voice actor Chuck McCann.

Interviews:

"McCann on McCool" Cool McCool voice actor Chuck McCann is interviewed by Wally Wingert. Chuck explains how he got involved in the show and how he created the wonderful voices for all of his characters.

"Chatting With Chuck" Legendary performer Chuck McCann is highlighted in this salute to his prolific career in movies, television, commercials, animation, theater and music.

A Cool McCool Introduction for each Episode by Cool McCool voice actor Chuck McCann.

"The School of McCool " Music Video: A new, original song by Wally Wingert comes to life "music video" style. With a special cameo appearance by Cool McCool voice artist Chuck McCann!

More From Ink & Paint Trailers
In addition to starring in numerous comedic and dramatic TV series and movies, Chuck McCann's extensive list of credits also includes voice work for the animated shows "G.I. Joe," "Fantastic Four," "Iron Man" and "DuckTales." Producing the special features, documentaries and most of the extra content is voice over actor Wally Wingert ("Family Guy", "Murphy Brown" and "The Martin Short Show").
---
Return to Toons on DVD page