THE 8th MAN PAGE
---
8th Man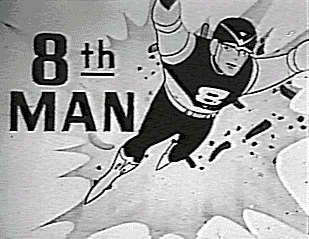 8th Man, a super android, was empowered with the likeness, memory and courage of a slain police detective, Special Agent Brady. Remade into Tobor the 8th Man by Professor Genius, he resumed the chase for his killer, Saucer Lip, operating out of the Metropolitan International Police Headquarters. Only Chief Fumblethumbs knew his secret identity.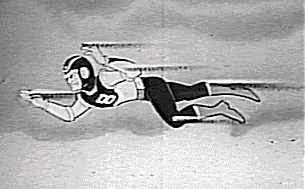 Created by artist Jiro Kuwata and scriptwriter Kazumasa Hirai as a Japanese comic strip in April 1963 and adapted for a TV cartoon show. Originally produced by TCJ Animation Center in Japan, the series was dubbed and produced in English for ABC Films in 1965 by Gene Prinz and his staff at Copri Films International in Miami. In addition to the production and dubbing on "8th Man", this team is also responsible for the English dubbing on "Prince Planet", "Johnny Sokko's Flying Robot", and "The Amazing 3" series. The producer credits of these series varies, but the dubbing for all four series was done by Prinz at Copri Films International. Contrary to previously published animation histories, Oriolo Studios (the late Joe and son Don) had nothing to do with these series. (Thanks to Andy Shepherd for correcting the oft-repeated error concerning the dubbing/producing of the series and for providing me with the actual credits, and thanks to David Lomazoff for correcting the name of the real identity of 8th Man.) The 8th Man scripts were written by Reuben Guberman. On February 19, 2000 I received the following email:
"Date: Sat, 19 Feb 2000 18:13:40 EST
Subject: Reuben Guberman
This message comes from the immediate family of Reuben Guberman "Rube". Rube is in the hospital fighting for his life. He has Emphasema and Cancer. He is fighting hard at this time. 8th Man Fans will give him much more strength and will to live. His family would welcome any fan mail and/or prayers for his speedy recovery. 8th Man brought much pleasure to him and his family.
His wife, Tammy, and family, are looking forward to your good wishes."
Unfortunately, Mr. Guberman passed away on March 19, 2000.
---
This web site originated July 6, 1997
The TOON TRACKER sites are
created and maintained by Ron Kurer
TOON TRACKER © 1996 - 2006


---